Geology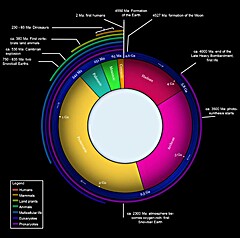 Den här gruppen är officiellt vilande. Sånt händer.
Om du vill återuppliva den här gruppen eller skapa en ny grupp för samma ämne, se denna sida.
This group is open to all that are interested in discussing anything and everything related to the study of solid earth or other solid bodies.
Diskussion

Diskussion

Meddelanden

Senaste inlägget

Recommended Geology Books

86 olästa

/ 86

stretch

,

maj

2020
Greenland's Grand Canyon

4 olästa

/ 4

anthonywillard

,

september

2013
book box for car

6 olästa

/ 6

setnahkt

,

augusti

2013
Geology & Sea Levels

6 olästa

/ 6

marypdombrowski

,

juni

2013
USGS geological map viewer

6 olästa

/ 6

setnahkt

,

mars

2013
The volcano that could destroy America

11 olästa

/ 11

JanetMerza

,

april

2012
On Vulcanology.

5 olästa

/ 5

guido47

,

januari

2012
Another book suggestion thread...but different...

2 olästa

/ 2

karneol

,

november

2011
Suggest wishlist books for a rock club's library

13 olästa

/ 13

JimThomson

,

oktober

2011
Looking for SCIRP Books Distribution

2 olästa

/ 2

theapparatus

,

oktober

2011
Cool Stuff - pictures

68 olästa

/ 68

NorthernStar

,

februari

2011
Geology Challenge

5 olästa

/ 5

yapete

,

september

2010
A Question about Making a Crystal

6 olästa

/ 6

Helenoel

,

augusti

2010
Why Geologist love beer?

4 olästa

/ 4

Vanye

,

december

2009
In Our Time - The geological formation of Britain

1 oläst

/ 1

Noisy

,

oktober

2009
Want any Changes to the group?

4 olästa

/ 4

Helcura

,

december

2008
The Levitating Globe and other denials of the earth sciences - what have you come across

25 olästa

/ 25

argyriou

,

augusti

2008
Geology (or General Science) Humor

12 olästa

/ 12

Helcura

,

augusti

2008
What's your favorite field?

6 olästa

/ 6

NatureGeek

,

juni

2008
Scientists and public obligations

13 olästa

/ 13

setnahkt

,

april

2008
what is favorite gear?

2 olästa

/ 2

dchaikin

,

september

2007
Plate Tectonic Forecasts

6 olästa

/ 6

suge

,

maj

2007
Trilobite digging

5 olästa

/ 5

naheim

,

maj

2007
Aren't we a chatty bunch?!

7 olästa

/ 7

dchaikin

,

april

2007
LT is messing me up!

2 olästa

/ 2

Vanye

,

april

2007
Aren't we a chatty bunch?!

1 oläst

/ 1

Vanye

,

mars

2007
Hello Group:

5 olästa

/ 5

MissElliot

,

mars

2007
Hello group:

1 oläst

/ 1

Vanye

,

februari

2007
Hello Group:

1 oläst

/ 1

Vanye

,

februari

2007
This is a feature balloon