ROOT - 2014 Read Our Own Tomes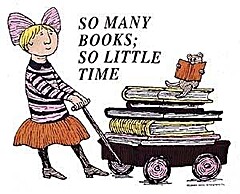 Den här gruppen är officiellt vilande. Sånt händer.
Läs här om hur du gör för att återuppliva gruppen eller skapa en ny om samma ämne.
Together in 2013 we read close to 4,000 of our own books - ROOT was successful but there are still books to be read. We will be Reading Our Own Tomes (those old books that deserve their time in the limelight). Join in the fight against unread books! But ROOT also says how we support each other in the effort and cheer each other to their own goal.

Many of us have mountains of books that are just waiting to be read and this is our way of making that decision to read those books. Newer and prettier books are always catching our eyes so older books fall farther to the bottom of the pile. This group is designed to help everyone see those books that have been hiding, and read them with the same joy as a new book arriving from the bookstore.

We will have a joint ticker and a monthly thread to encourage all who enlist for this fight against the unread book. We will root on each other to reach our goals and win the fight against unread books.
Diskussion

Diskussion

Meddelanden

Senaste inlägget

Utopian Pessimist - Once again hoping to keep up with reading & posting
14

olästa

/ 14

UtopianPessimist

,

september

2015
what koalamom read in 2014 month by month
60

olästa

/ 60

koalamom

,

maj

2015
rainpebble ROOTs on in 2014
376

olästa

/ 376

Tess_W

,

januari

2015
TBR@57 Robertgreaves's challenge for 2014/5 part 1
77

olästa

/ 77

Robertgreaves

,

januari

2015
Henrik goes treasure-hunting in his own library
148

olästa

/ 148

Henrik_Madsen

,

januari

2015
Streamsong tries again in 2014
144

olästa

/ 144

fuzzi

,

januari

2015
Terri (tymfos) trims the bookshelves! Thread 2
93

olästa

/ 93

tymfos

,

januari

2015
DECEMBER AND FINAL ROOT - Progress Thread
179

olästa

/ 179

rubyandthetwins

,

januari

2015
Benita's Big Bad Book Pile 2014
99

olästa

/ 99

benitastrnad

,

januari

2015
Ticker thread - no discussion just tickers please
125

olästa

/ 125

streamsong

,

januari

2015
crotchetymama
3

olästa

/ 3

0wllight

,

januari

2015
cyderry - Chèli's efforts to ROOT
154

olästa

/ 154

clue

,

januari

2015
T(erri)Loeffler Tries Again...
113

olästa

/ 113

LauraBrook

,

januari

2015
Crazy4reading decides to be Crazy and do the ROOT Challenge
141

olästa

/ 141

LauraBrook

,

januari

2015
Vestafan's TBR bedroom pile must go (down at least)
67

olästa

/ 67

vestafan

,

januari

2015
Quaisior Attacks Her TBR Mountain Once Again
21

olästa

/ 21

Quaisior

,

januari

2015
DECEMBER AND FINAL ROOT - Progress Thread
6

olästa

/ 6

rainpebble

,

januari

2015
LibraryCin's Trim that TBR
20

olästa

/ 20

LibraryCin

,

januari

2015
jen.e.moore digs away at Mount TBR
107

olästa

/ 107

jen.e.moore

,

januari

2015
brewergirl's ROOT list for 2014
41

olästa

/ 41

brewergirl

,

januari

2015
LauraBrook tries to dig up more ROOTs in 2014
51

olästa

/ 51

LauraBrook

,

januari

2015
Bragan vs. the TBR Pile, The 2014 Rematch!
410

olästa

/ 410

bragan

,

januari

2015
Christina reads her own tomes in 2014
157

olästa

/ 157

rabbitprincess

,

december

2014
BJ's 2014 ROOT attempt
29

olästa

/ 29

billiejean

,

december

2014
rabbitprincess burrows in the garden in 2014
235

olästa

/ 235

rabbitprincess

,

december

2014
LadyBookworth year of reading fiction for pleasure
74

olästa

/ 74

rabbitprincess

,

december

2014
edgewood digs up more ROOTs for 2014
29

olästa

/ 29

edgewood

,

december

2014
Lisa's 2014 Root Removal
44

olästa

/ 44

lsh63

,

december

2014
kaylaraeintheway: ROOT 2014!
121

olästa

/ 121

avanders

,

december

2014
Tess's 2014 Root Reads
185

olästa

/ 185

Tess_W

,

december

2014
Michael.Rimmer: ROOT Pile
85

olästa

/ 85

rabbitprincess

,

december

2014
detailmuse's ROOTings
92

olästa

/ 92

DetailMuse

,

december

2014
Clue 2014
74

olästa

/ 74

clue

,

december

2014
deep220's Tomes to be uprooted
110

olästa

/ 110

deep220

,

december

2014
JackieKirkham - 1st time ROOTing
192

olästa

/ 192

avanders

,

december

2014
Familyhistorian reads what she owns!
237

olästa

/ 237

Familyhistorian

,

december

2014
fuzzi's 2014: Weeding Out Those Tenacious ROOTs!
130

olästa

/ 130

fuzzi

,

december

2014
avanders' Root Challenge 2014 Part 2
198

olästa

/ 198

avanders

,

december

2014
mabith's ROOTS
163

olästa

/ 163

Caramellunacy

,

december

2014
Merryann 2014 No. 3 Post-Goal ROOTS
32

olästa

/ 32

Merryann

,

december

2014
lkernagh (Lori) ROOTs for 25 in 2014
86

olästa

/ 86

lkernagh

,

december

2014
Connie's ROOTs in 2014, part 3
310

olästa

/ 310

connie53

,

december

2014
Nickelini chips away at her TBR pile in 2014
115

olästa

/ 115

LauraBrook

,

december

2014
Amberfly's ROOTs go deep...
171

olästa

/ 171

Amberfly

,

december

2014
Shearon keeps at it in 2014
42

olästa

/ 42

Tess_W

,

december

2014
Hemlokgang ROOTs Around 2014
38

olästa

/ 38

Tess_W

,

december

2014
JacobsBeloved's ROOT challenge
19

olästa

/ 19

JacobsBeloved

,

december

2014
Jean's Tending of Her TBR Garden
200

olästa

/ 200

majkia

,

december

2014
Shutzie27's ROOT 2014
173

olästa

/ 173

Shutzie27

,

december

2014
Karen_O -- Making Way for More Books
72

olästa

/ 72

rabbitprincess

,

december

2014
MissWatson upROOTS more books from Mount TBR
141

olästa

/ 141

connie53

,

december

2014
Dudes22 (Betty) Digs Some Roots from her TBR pile
223

olästa

/ 223

connie53

,

december

2014
Conachairs 50 for 2014
60

olästa

/ 60

connie53

,

december

2014
Sarah's ROOTS in 2014
29

olästa

/ 29

connie53

,

december

2014
Caroline's ROOT Reads
69

olästa

/ 69

connie53

,

december

2014
Anansilaw ROOTs Out
41

olästa

/ 41

connie53

,

december

2014
Ipsoivan presses on
257

olästa

/ 257

ipsoivan

,

december

2014
sallylou61's reading of backlog
37

olästa

/ 37

avanders

,

december

2014
torontoc's ROOTS on 2014
64

olästa

/ 64

avanders

,

december

2014
Dog Eared Copy's 50!
65

olästa

/ 65

Tanya-dogearedcopy

,

december

2014
Mandymarie Tomes 2014
75

olästa

/ 75

connie53

,

december

2014
Stacy's (LittleTaiko) 2014 ROOT Challenge
56

olästa

/ 56

MissWatson

,

december

2014
LauraNav - ROOT ROOT, here we go!
41

olästa

/ 41

rabbitprincess

,

december

2014
InfoQuest's ROOT attempt
54

olästa

/ 54

rabbitprincess

,

december

2014
Eesti23's ROOTS
34

olästa

/ 34

connie53

,

december

2014
Avidmom ROOTS Through Her Own Shelves
44

olästa

/ 44

connie53

,

december

2014
Kkunker's 2014 ROOT Challenge
95

olästa

/ 95

connie53

,

december

2014
Pigletto's Roots
67

olästa

/ 67

avanders

,

december

2014
TBR OMG
4

olästa

/ 4

fuzzi

,

december

2014
NOVEMBER ROOT Progress Thread
129

olästa

/ 129

fuzzi

,

december

2014
lindapanzo's 2014 focus on Antique Reading Devices
67

olästa

/ 67

LauraBrook

,

november

2014
laura_88's 2014 ROOT Challenge
61

olästa

/ 61

Tess_W

,

november

2014
VivienneR targets the tbr list
228

olästa

/ 228

connie53

,

november

2014
westham89's First time ROOTer
43

olästa

/ 43

westham89

,

november

2014
OCTOBER ROOT - Progress thread
101

olästa

/ 101

mandymarie20

,

november

2014
Laytonwoman3rd's ROOT'em out and READ'em Project 2014
46

olästa

/ 46

laytonwoman3rd

,

november

2014
Tsundoku: We Obviously All Have Them!
2

olästa

/ 2

Michael.Rimmer

,

oktober

2014
johanna414 reads again!
178

olästa

/ 178

johanna414

,

oktober

2014
new member - modest goal
47

olästa

/ 47

kittytm

,

oktober

2014
TBR@56 Robertgreaves's challenge for 2013/4 part 2
188

olästa

/ 188

Robertgreaves

,

oktober

2014
Tallulah ROOTs again in 2014!
90

olästa

/ 90

Tess_W

,

oktober

2014
Laura's log
10

olästa

/ 10

Tess_W

,

oktober

2014
shinyone ROOTS on in 2014
66

olästa

/ 66

Tess_W

,

oktober

2014
raidergirl3: ROOT record
60

olästa

/ 60

Tess_W

,

oktober

2014
SEPTEMBER ROOT - Progress Thread
116

olästa

/ 116

rubyandthetwins

,

oktober

2014
ROOTilicious Reads (karspeak)
71

olästa

/ 71

karspeak

,

oktober

2014
jessibud2's ROOTing attempt for 2014
52

olästa

/ 52

jessibud2

,

oktober

2014
Banned Books Week, 2014
3

olästa

/ 3

Tess_W

,

september

2014
PRHOT - Paul Reading His Own Tomes
36

olästa

/ 36

paulstalder

,

september

2014
leslie.98's ROOTing for Success
106

olästa

/ 106

leslie.98

,

september

2014
StormRaven's 2014 ROOT
29

olästa

/ 29

StormRaven

,

september

2014
AUGUST ROOT - Progress Thread
138

olästa

/ 138

cyderry

,

september

2014
SK late start
3

olästa

/ 3

connie53

,

augusti

2014
AuntMarge64's ROOT - 30 for 2014
35

olästa

/ 35

auntmarge64

,

augusti

2014
Merryann ROOTs in 2014 No. 2
259

olästa

/ 259

Merryann

,

augusti

2014
MAY ROOT - Progress Thread
142

olästa

/ 142

WebsiteMart

,

augusti

2014
ReflexandResolve's 2014 Battle agqainst the TBR bulge
14

olästa

/ 14

Merryann

,

augusti

2014
Caramellunacy revisits the TBR excavation
177

olästa

/ 177

Merryann

,

augusti

2014
Kaydeanne's Books Which have Waited too long to be read.
26

olästa

/ 26

connie53

,

augusti

2014
Ameise1's second ROOT
74

olästa

/ 74

Ameise1

,

augusti

2014
This is a feature balloon