Persephone Readers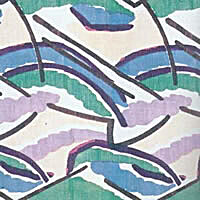 Den här gruppen är officiellt vilande. Sånt händer.
Läs här om hur du gör för att återuppliva gruppen eller skapa en ny om samma ämne.
A group for all lovers of Persephone books, "reprints [of] forgotten classics by twentieth-century (mostly women) writers. Each one in our collection of seventy books is intelligent, thought-provoking and beautifully written, and most are ideal presents or a good choice for reading groups."

The picture to the right depicts the endpaper of Persephone's first book, William: An Englishman by Cicely Hamilton.
Diskussion

Diskussion

Meddelanden

Senaste inlägget

Persephone Salon
16

olästa

/ 16

bleuroses

,

september

2021
Which PERSEPHONE are you reading, PART IV
19

olästa

/ 19

LyzzyBee

,

augusti

2021
Susan Glaspell.
5

olästa

/ 5

laurenbufferd

,

juli

2021
Persephone Books Moving to Bath
4

olästa

/ 4

anbolyn

,

april

2021
Interview with Nicola Beauman
6

olästa

/ 6

laurenbufferd

,

februari

2021
All Virago/All August (which includes Persephones)
1

oläst

/ 1

anbolyn

,

juli

2019
Persephone Readathon#3 (May 31st-June 9th, 2019)
2

olästa

/ 2

anbolyn

,

juni

2019
In the News
3

olästa

/ 3

anbolyn

,

april

2019
Persephone 20th Anniversary
1

oläst

/ 1

anbolyn

,

mars

2019
DESPISED AND REJECTED on the radio
1

oläst

/ 1

elkiedee

,

oktober

2018
Which PERSEPHONE are you reading, PART III
5

olästa

/ 5

anbolyn

,

september

2018
Mini Persephone Readathon June 1-3, 2018
4

olästa

/ 4

iamnobird321

,

maj

2018
Persephone Readathon February 1-11, 2018
7

olästa

/ 7

TheBookTrunk

,

februari

2018
#persephoneseptember
2

olästa

/ 2

LyzzyBee

,

september

2017
Persephone Letter
1

oläst

/ 1

anbolyn

,

augusti

2017
Persephones for Book Groups?
2

olästa

/ 2

anbolyn

,

augusti

2017
Forthcoming Persephones
6

olästa

/ 6

anbolyn

,

juli

2017
Which PERSEPHONE are you reading, PART II
381

olästa

/ 381

LyzzyBee

,

juni

2017
MPD offer today!
11

olästa

/ 11

sambadoll

,

september

2015
Persephone Readers MESSAGE BOARD
123

olästa

/ 123

kaggsy

,

september

2015
US retailers
6

olästa

/ 6

sambadoll

,

augusti

2015
Nicola Beauman
2

olästa

/ 2

anbolyn

,

november

2014
Newest Persephones
3

olästa

/ 3

anbolyn

,

november

2014
Biannually Autumn/Winter 2014/15
2

olästa

/ 2

kaggsy

,

oktober

2014
What is your most recent Persephone purchase? PART II
142

olästa

/ 142

Leseratte2

,

juli

2014
Duplicate Persephones
8

olästa

/ 8

toast_and_tea

,

juni

2014
Winifred Holtby on Facebook
5

olästa

/ 5

GingerCrinkle

,

april

2014
Biannually Archive online
5

olästa

/ 5

rainpebble

,

mars

2014
Special September Offer!
11

olästa

/ 11

ccookie

,

november

2013
The Persephone Biannually, No. 12 - Spring/Summer 2013
11

olästa

/ 11

HolmesGirl221b

,

juli

2013
Simple questions
7

olästa

/ 7

rainpebble

,

april

2013
Persephone shop outing
8

olästa

/ 8

MissDarcy

,

mars

2013
Fictional Persephone Readers
7

olästa

/ 7

booktruffler

,

februari

2013
Persephone Book Club In Melbourne, Australia
1

oläst

/ 1

Katroo

,

januari

2013
The Persephone Biannually, No. 11 - Spring/Summer 2012
2

olästa

/ 2

rainpebble

,

december

2012
Savidgereads the Persephone 100
2

olästa

/ 2

LyzzyBee

,

november

2012
Miss Buncle series
3

olästa

/ 3

kaggsy

,

november

2012
What is your most recent Persephone purchase?
361

olästa

/ 361

GSLulos

,

maj

2012
Katherine Mansfield
6

olästa

/ 6

kaggsy

,

april

2012
Need some advice on what to buy
27

olästa

/ 27

romain

,

mars

2012
Hypothetical fantasy - Persephone Ebook editions
16

olästa

/ 16

Heaven-Ali

,

december

2011
Dorothy Whipple stories on Radio 4
12

olästa

/ 12

Soupdragon

,

november

2011
The Persephone Biannually, No. 10 - Autumn/Winter 2011-12
9

olästa

/ 9

bleuroses

,

november

2011
Autumn 2011 books!
4

olästa

/ 4

carolineauckland

,

augusti

2011
A Persephone dating service?
4

olästa

/ 4

Heaven-Ali

,

augusti

2011
Hope all the other UK Persephone group members are OK
3

olästa

/ 3

Ygraine

,

augusti

2011
BBC R4 Open Book: A Book of One's Own featuring Nicola Beauman, publisher of Persephone Books
3

olästa

/ 3

chrisharpe

,

juli

2011
Persephone Biannually No. 2
1

oläst

/ 1

Chimpster

,

maj

2011
The Persephone Biannually No.9 - Spring Summer 2011
8

olästa

/ 8

digifish_books

,

maj

2011
The Sack of Bath??
30

olästa

/ 30

romain

,

april

2011
Persephone endpapers
6

olästa

/ 6

Marensr

,

mars

2011
Interview with Nicola Beauman: The future of Persephone
18

olästa

/ 18

FemmeNoiresque

,

mars

2011
Persephone Reading Weekend is here!
9

olästa

/ 9

mrsvjdw

,

februari

2011
Persephone Reading Weekend
11

olästa

/ 11

VPaladin

,

februari

2011
The Persephone Diary
4

olästa

/ 4

bunnyb

,

januari

2011
Which books do you wish Persephone would reissue?
15

olästa

/ 15

elkiedee

,

december

2010
Books published by Persephone as mentioned in other books
8

olästa

/ 8

bleuroses

,

november

2010
Biannually No 8 Autumn 2010
15

olästa

/ 15

Marensr

,

november

2010
Biannually No. 7 Spring/Summer 2010
10

olästa

/ 10

Marensr

,

juni

2010
Forum
4

olästa

/ 4

digifish_books

,

juni

2010
Persephone Mother's Day offer
2

olästa

/ 2

rainpebble

,

mars

2010
Top Persephones for 2009
19

olästa

/ 19

digifish_books

,

februari

2010
How did you discover Persephone?
50

olästa

/ 50

VioletBramble

,

februari

2010
How many? and How do you get them?
48

olästa

/ 48

elkiedee

,

februari

2010
Besides the Shuttle, what else has Persephone abridged?
24

olästa

/ 24

tuppy_glossop

,

november

2009
New biannually and cataglogue out today!
39

olästa

/ 39

digifish_books

,

november

2009
Saplings by Noel Streatfeild
3

olästa

/ 3

digifish_books

,

oktober

2009
Persephone Biannually No 5
28

olästa

/ 28

Ortolan

,

juni

2009
a review of Nicola's latest
3

olästa

/ 3

romain

,

april

2009
Anyone in London on 14 April?
6

olästa

/ 6

englishrose60

,

april

2009
Persephone lunch
8

olästa

/ 8

Marensr

,

mars

2009
Happy Birthday Persephone!
4

olästa

/ 4

bleuroses

,

mars

2009
Which Persephone are you reading now?
213

olästa

/ 213

ms.hjelliot

,

mars

2009
Persephones in the States
10

olästa

/ 10

Marensr

,

mars

2009
Choose my next P read.
19

olästa

/ 19

miss_read

,

mars

2009
Dorothy Canfield Fisher and Julia Child
4

olästa

/ 4

woollenstuff

,

januari

2009
What Should Persephone Publish Next?
76

olästa

/ 76

bleuroses

,

december

2008
New Facebook group for Persephone fans
9

olästa

/ 9

miss_read

,

november

2008
The New Shop!
48

olästa

/ 48

Marensr

,

oktober

2008
Persephone Classics - News
20

olästa

/ 20

Marensr

,

oktober

2008
Pandora Press, Mothers of the Novel
20

olästa

/ 20

Sibylle.Night

,

september

2008
Persphone lecture - 18 Nov London
5

olästa

/ 5

TerrierGirl

,

september

2008
Miss Pettigrew
5

olästa

/ 5

antisyzygy

,

augusti

2008
Dorothy Whipple
7

olästa

/ 7

Sibylle.Night

,

juni

2008
Three new Persephones in April
28

olästa

/ 28

woollenstuff

,

maj

2008
Persephone books on film
16

olästa

/ 16

bleuroses

,

maj

2008
Little Boy Lost - Marghanita Laski
9

olästa

/ 9

charlottestar

,

mars

2008
Duplicate copy
8

olästa

/ 8

bleuroses

,

januari

2008
Persephone Letter - December 15
5

olästa

/ 5

aluvalibri

,

december

2007
Persephone in shops
3

olästa

/ 3

miss_read

,

december

2007
Ruby Ferguson
4

olästa

/ 4

LyzzyBee

,

november

2007
Persephone Letter - May 30
14

olästa

/ 14

bleuroses

,

oktober

2007
I see I am quoted in this months Persephone quarterly
6

olästa

/ 6

LyzzyBee

,

oktober

2007
Persephones in the U.S.!
3

olästa

/ 3

marise

,

oktober

2007
Free Book!
16

olästa

/ 16

Caroline_McElwee

,

oktober

2007
The Shuttle
14

olästa

/ 14

woollenstuff

,

september

2007
Elizabeth Taylor
20

olästa

/ 20

bleuroses

,

september

2007
Help me choose my next three Persephones
12

olästa

/ 12

LyzzyBee

,

augusti

2007
Persephone Biannually Catalogue
6

olästa

/ 6

Caroline_McElwee

,

augusti

2007
The shop!
10

olästa

/ 10

rec

,

juli

2007
This is a feature balloon