All Things Discworldian - The Guild of Pratchett Fans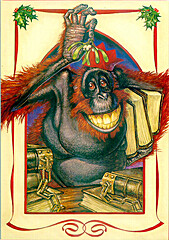 If you're a fan of Terry Pratchett, then this is the group for you! Whether you're young or old, pull up a chair, hand over a banana to the Librarian and get handed a book in return. With any luck it'll be one that won't send you hurtling into the Dungeon Dimensions, but will feature some well-loved characters from one of the many guilds within Ankh Morpork, or perhaps the not-coven of Witches from the Ramtop Mountains.

Beware if you try to steal a book away though - The City Watch are more than capable these days.

And of course, the Wizards might get tetchy if you upset the Librarian (don't say monkey!).

Ook!
Diskussion

Diskussion

Meddelanden

Senaste inlägget

Fastnålat

— Greetings and welcome
56

olästa

/ 56

haydninvienna

,

november

27
Which was your first Pratchett Book?
66

olästa

/ 66

Petroglyph

,

november

24
More than YA?
7

olästa

/ 7

Pompy

,

november

24
Are you reading a Pratchett book now?
2

olästa

/ 2

Pompy

,

november

24
Collecting the Discworld
76

olästa

/ 76

GreatGonzo

,

oktober

19
Quick intro to the new admin
7

olästa

/ 7

haydninvienna

,

oktober

8
Happy 30th Birthday, Discworld.
4

olästa

/ 4

cindydavid4

,

oktober

7
new article from the Guardian
1

oläst

/ 1

cindydavid4

,

oktober

7
New Book:- Tiffany Aching's Guide to Being A Witch
2

olästa

/ 2

cindydavid4

,

september

24
Josh Kirby
3

olästa

/ 3

MrsLee

,

september

10
Terry Pratchett Audiobooks Are Hit With Trigger Warnings
6

olästa

/ 6

MrsLee

,

augusti

31
Kickstarter for Good Omens Graphic Novel
3

olästa

/ 3

dfmorgan

,

augusti

1
GoodOmens2
8

olästa

/ 8

gilroy

,

maj

10
New Short Stories found
11

olästa

/ 11

ChrisRiesbeck

,

mars

5
Pratchett moments in real life
6

olästa

/ 6

MrsLee

,

februari

12
Maurice is a movie!!!
5

olästa

/ 5

MrsLee

,

februari

9
Sky Cinema's The Amazing Maurice
14

olästa

/ 14

cindydavid4

,

februari

9
Documentary - Terry Pratchett: Facing Extinction
10

olästa

/ 10

SF-72

,

december

2022
favorite quotes?
24

olästa

/ 24

cindydavid4

,

november

2022
The Shepherd's Crown
7

olästa

/ 7

cindydavid4

,

november

2022
Official biography of Terry Pratchett
5

olästa

/ 5

cindydavid4

,

oktober

2022
Our Mighty Organ of Unseen University, Ankh-Morpork
2

olästa

/ 2

cindydavid4

,

oktober

2022
Good Omens premiers on BBC tomorrow. Anyone still around?
21

olästa

/ 21

humouress

,

maj

2022
It's the Glorious 25th of May!
4

olästa

/ 4

MrsLee

,

maj

2022
Anyone watch BBC's The Watch?
17

olästa

/ 17

Cynfelyn

,

mars

2022
Guards! Guards! Discussion and spoilers here.
22

olästa

/ 22

the_red_shoes

,

maj

2021
Pondering subseries and reading order
4

olästa

/ 4

MrsLee

,

november

2020
Clacks Overhead
7

olästa

/ 7

dfmorgan

,

oktober

2020
The "Young Adult" entries to Discworld - HC Edition Sizes
11

olästa

/ 11

JerryMmm

,

oktober

2017
The Folio Society and Sir Terry
5

olästa

/ 5

dfmorgan

,

september

2016
The Long Earth 5
1

oläst

/ 1

dfmorgan

,

juni

2016
Unseen Library - Guards! Guards!
3

olästa

/ 3

Disco_grinch

,

februari

2016
Small Gods - Graphic Novel
1

oläst

/ 1

dfmorgan

,

januari

2016
The Amazing Maurice discussion questions
8

olästa

/ 8

MrsLee

,

januari

2016
Rhianna Pratchett remembers her father
3

olästa

/ 3

Artur

,

december

2015
Happy Hogswatch One and All!
8

olästa

/ 8

Artur

,

december

2015
Patrick Rothfuss remembers Sir Pterry
2

olästa

/ 2

MrsLee

,

augusti

2015
It's a Sad Day...
11

olästa

/ 11

jeannecarol

,

juni

2015
Pratchett Memorial Group Read
1

oläst

/ 1

ronincats

,

april

2015
Newbie into Pratchett: Reading order and editions
9

olästa

/ 9

brianjungwi

,

november

2014
A Pratchett Quote Game: thread #29
119

olästa

/ 119

ronincats

,

oktober

2014
Looking for a quote from Death
5

olästa

/ 5

Novak

,

juli

2014
A Pratchett Quote Game: thread #28
209

olästa

/ 209

pinkozcat

,

april

2014
The Long Earth 3
1

oläst

/ 1

dfmorgan

,

mars

2014
Are there any new Discworld films on the horizon?
3

olästa

/ 3

Strattegif

,

januari

2014
A Pratchett Quote Game: thread #28
202

olästa

/ 202

joannasephine

,

november

2013
If you like Pratchett, try...
37

olästa

/ 37

Ferghus

,

november

2013
Steeleye Span Wintersmith CD
2

olästa

/ 2

Helenliz

,

november

2013
Raising steam.. ..
3

olästa

/ 3

edrandrew

,

november

2013
Discworld Collector's Library announced
18

olästa

/ 18

MrsLee

,

november

2013
Discworld Character Art
2

olästa

/ 2

joannasephine

,

oktober

2013
Online survey for a research study on LibraryThing and its role in communities
15

olästa

/ 15

Helenliz

,

september

2013
A Pratchett Quote Game: thread #27
207

olästa

/ 207

justjim

,

september

2013
Pirates.. .. .. .. ..
3

olästa

/ 3

Novak

,

september

2013
A Kindle Cover I'm Ready to Shell out Money For
3

olästa

/ 3

Helenliz

,

september

2013
A New Discworld Novel!
7

olästa

/ 7

dfmorgan

,

september

2013
Heads-up: Academic survey post coming soon
2

olästa

/ 2

MrsLee

,

augusti

2013
A Blink of the Screen
13

olästa

/ 13

sannep

,

augusti

2013
A Pratchett Quote Game: thread #26
208

olästa

/ 208

joannasephine

,

augusti

2013
Truckers on DVD in UK
2

olästa

/ 2

igorken

,

juli

2013
Hello
3

olästa

/ 3

MrsLee

,

juli

2013
So who do you think should play?.......
67

olästa

/ 67

MrsLee

,

juli

2013
City Government and the wisdom of Lord Vetinari
8

olästa

/ 8

MrsLee

,

juli

2013
Favourite characters?
12

olästa

/ 12

MrsLee

,

juli

2013
The Wyrd Sisters
1

oläst

/ 1

crazykat321

,

juli

2013
A Pratchett Quote Game: thread #25
206

olästa

/ 206

pinkozcat

,

juni

2013
NADWcon in Baltimore
1

oläst

/ 1

Rand1956

,

juni

2013
Anhk Morpork: the Ipad app
1

oläst

/ 1

pinkozcat

,

maj

2013
Gytha "Nanny" Ogg
3

olästa

/ 3

Helenliz

,

maj

2013
A Pratchett Quote Game: thread #24
220

olästa

/ 220

pinkozcat

,

maj

2013
A Pratchett Quote Game: thread #23
217

olästa

/ 217

pinkozcat

,

april

2013
Good Omens and The Watch on their way to TV
5

olästa

/ 5

dfmorgan

,

april

2013
Age Appropriateness of Discworld Question
11

olästa

/ 11

JerryMmm

,

mars

2013
Should Terry Pratchett apply for the Pope's Job?
13

olästa

/ 13

Novak

,

mars

2013
From Random House Book Publishers
18

olästa

/ 18

pinkozcat

,

mars

2013
Pull the other one, it has.. bells.. ..on?
32

olästa

/ 32

Novak

,

mars

2013
A Pratchett Quote Game: thread #22
213

olästa

/ 213

joannasephine

,

mars

2013
The sequel to The Long Earth
1

oläst

/ 1

dfmorgan

,

februari

2013
A New Novel - The Long Earth
30

olästa

/ 30

reading_fox

,

januari

2013
Support National Buy a Book Day
6

olästa

/ 6

Novak

,

januari

2013
A Pratchett Quote Game: thread #21
202

olästa

/ 202

pinkozcat

,

december

2012
TV Tie-ins
1

oläst

/ 1

JerryMmm

,

december

2012
A Pratchett Quote Game: thread #20
203

olästa

/ 203

edrandrew

,

november

2012
A nuvver new novel - Dodger
12

olästa

/ 12

Novak

,

november

2012
A Quote Game: thread #19
207

olästa

/ 207

joannasephine

,

oktober

2012
NADWCon Registration re-opens tonight!
1

oläst

/ 1

SocialMediaTeam

,

oktober

2012
A Quote Game: thread #18
264

olästa

/ 264

joannasephine

,

augusti

2012
North American Discworld Convention 2013
1

oläst

/ 1

SocialMediaTeam

,

augusti

2012
A Quote Game: thread #17
211

olästa

/ 211

AnnieMod

,

juli

2012
A Quote Game: thread #16
274

olästa

/ 274

joannasephine

,

maj

2012
Whats your favourite Discworld book?
19

olästa

/ 19

MrsLee

,

april

2012
The New Book - Snuff
45

olästa

/ 45

MrsLee

,

april

2012
Snuff: The Spoiler Thread
25

olästa

/ 25

MrsLee

,

april

2012
Characters like Sam Vimes
13

olästa

/ 13

riani1

,

april

2012
Are you reading a Pratchett book now?
199

olästa

/ 199

MrsLee

,

april

2012
Miniature Great A'Tuin
11

olästa

/ 11

guido47

,

april

2012
A Quote Game: thread #15
272

olästa

/ 272

anatwork.k

,

april

2012
A Quote Game: thread #14
297

olästa

/ 297

joannasephine

,

februari

2012
A Quote Game: thread #13
300

olästa

/ 300

pinkozcat

,

december

2011
2012 Witches & Witchcraft Reading Challenge!!
1

oläst

/ 1

myeclecticbooks

,

december

2011
This is a feature balloon