Horror!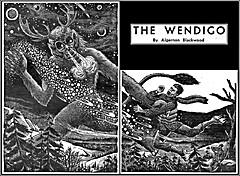 Hello, welcome to Horror!, where we read, you guessed it, horror! ;)

This group was originally conceived as a side-project to another group, but ... stuff happened. There was a split. So Horror! became a group unto itself, woo!
Anyone is welcome to join us in our subgenre-themed horror reading! No requirements, feel free to pop in and out at your whim. :)

Our schedule for 2016:
January: Early modern horror: 1950-1980 (thread)
February: Horror in translation (thread)
March: Women authors (thread)
April: Slashers, serial killers & the like (thread)
May: Non-fiction (thread)
June: Stephen King & family (thread)
July: Graphic novels + children's/YA (thread)
August: Pre- through post-Victorian Gothic (thread)
September: Paranormal (thread)
October: Hauntings/ghost stories (thread)
November: Diversity in horror (thread)
December: Short stories

The list of reading suggestions for each theme can be found here.
The thread for general ?s & recs is here.
The pet discussion thread is here.


Diskussion

Diskussion

Meddelanden

Senaste inlägget

Julie in the Horror Section
23

olästa

/ 23

Julie_in_the_Library

,

juni

11
Does Horror feel Left Behind In Teaching?
4

olästa

/ 4

reconditereader

,

juni

2022
What's your favorite scary book?
7

olästa

/ 7

Ravenwoodwitch

,

juni

2022
General recommendations and questions
46

olästa

/ 46

Julie_in_the_Library

,

juni

2022
Horror
2

olästa

/ 2

gilroy

,

januari

2022
Scary Stories: An Invitation to Join LT's October List of the Month
1

oläst

/ 1

AbigailAdams26

,

oktober

2021
Peter Straub collection
1

oläst

/ 1

St._Troy

,

maj

2021
The need for fear in America
1

oläst

/ 1

cloudshipsinger

,

augusti

2020
A quick catch-up...
21

olästa

/ 21

Crypto-Willobie

,

mars

2019
Giveaway - Michael McDowell's The Amulet
1

oläst

/ 1

grammarchick

,

oktober

2018
December: Marjorie Bowen - crime & mystery
12

olästa

/ 12

LibraryCin

,

december

2017
LibraryCin's Horror Reads (2017)
22

olästa

/ 22

LibraryCin

,

december

2017
November - Short Stories and Poetry, Edgar Allan Poe
16

olästa

/ 16

LibraryCin

,

december

2017
2017 Ideas
114

olästa

/ 114

LibraryCin

,

december

2017
October - Joyce Carol Oates - Modern Horror
6

olästa

/ 6

LibraryCin

,

november

2017
Next year?
15

olästa

/ 15

mathgirl40

,

oktober

2017
September: Poppy Z. Brite/Tananarive Due - diversity
10

olästa

/ 10

mathgirl40

,

oktober

2017
August 2017: Flannery O'Connor - Women
9

olästa

/ 9

mathgirl40

,

september

2017
July 2017: Clive Barker/Neil Gaiman - Graphic Novels/Young Adult
13

olästa

/ 13

sturlington

,

juli

2017
June 2017: Ann Radcliffe/Gothic
12

olästa

/ 12

sturlington

,

juli

2017
May 2017 - J. Sheridan Le Fanu/Ghosts
16

olästa

/ 16

luvamystery65

,

juni

2017
April 2017: Daphne duMaurier - Books made into films
21

olästa

/ 21

mathgirl40

,

maj

2017
March 2017: Richard Matheson/Creatures
14

olästa

/ 14

mathgirl40

,

mars

2017
February 2017: Shirley Jackson / Psychological
8

olästa

/ 8

luvamystery65

,

februari

2017
January 2017: Stephen King and family
13

olästa

/ 13

LibraryCin

,

februari

2017
December 2016: Short stories
8

olästa

/ 8

mathgirl40

,

januari

2017
2017 Roberta reads Horror!
12

olästa

/ 12

luvamystery65

,

januari

2017
2016 Roberta Reads Horror! (luvamystery65)
41

olästa

/ 41

luvamystery65

,

december

2016
Cindy/LibraryCin's Horror Reads in 2016
27

olästa

/ 27

LibraryCin

,

december

2016
Off Topic: Who wants to talk about their cats (or other pets)?
131

olästa

/ 131

LibraryCin

,

december

2016
November 2016: Diversity in horror
19

olästa

/ 19

luvamystery65

,

december

2016
Whitewavedarling's horrors...
34

olästa

/ 34

whitewavedarling

,

november

2016
October: Hauntings/Ghost Stories
15

olästa

/ 15

LibraryCin

,

oktober

2016
September 2016: Paranormal
17

olästa

/ 17

mathgirl40

,

oktober

2016
August 2016: Gothic
12

olästa

/ 12

mathgirl40

,

september

2016
Reading ideas for 2016
49

olästa

/ 49

LibraryCin

,

september

2016
Shannon's (sturlington) Horror and Thrillers
40

olästa

/ 40

sturlington

,

augusti

2016
July 2016: Graphic Novels + Children's/YA
19

olästa

/ 19

mathgirl40

,

augusti

2016
Movies!
4

olästa

/ 4

sturlington

,

augusti

2016
April 2016: Slashers, serial killers, &c
23

olästa

/ 23

Moomin_Mama

,

juli

2016
May 2016: Non-Fiction
22

olästa

/ 22

Moomin_Mama

,

juli

2016
February 2016: Non-English
57

olästa

/ 57

Moomin_Mama

,

juli

2016
June 2016: Stephen King and Family
22

olästa

/ 22

mathgirl40

,

juli

2016
March 2016: Women authors
48

olästa

/ 48

saraslibrary

,

april

2016
January 2016: Early modern horror: 1950-1980
70

olästa

/ 70

saraslibrary

,

februari

2016
Moomin's House of Horrors 2016
7

olästa

/ 7

Moomin_Mama

,

februari

2016
Jean/Majkia 2016 Horror Reading
8

olästa

/ 8

sturlington

,

januari

2016
December 2016: Contemporary/modern Gothic
47

olästa

/ 47

saraslibrary

,

januari

2016
Sara's Dungeon 2016
19

olästa

/ 19

saraslibrary

,

januari

2016
LibraryCin's Horror reads in 2015
82

olästa

/ 82

LibraryCin

,

december

2015
October: Slasher/Thriller
67

olästa

/ 67

Moomin_Mama

,

december

2015
November 2015: Light/humorous
43

olästa

/ 43

Moomin_Mama

,

december

2015
Moomin_Mama's horror list for 2015
82

olästa

/ 82

Moomin_Mama

,

december

2015
Planning for 2016
37

olästa

/ 37

majkia

,

december

2015
Jean (majkia) Reads Horror!
9

olästa

/ 9

.Monkey.

,

december

2015
Voting on 2016!
31

olästa

/ 31

Michael333

,

november

2015
August: Psychological Horror
63

olästa

/ 63

.Monkey.

,

oktober

2015
September: Southern Gothic
26

olästa

/ 26

saraslibrary

,

oktober

2015
Next year's topics?
102

olästa

/ 102

.Monkey.

,

oktober

2015
Reading suggestions
183

olästa

/ 183

Moomin_Mama

,

augusti

2015
July: Hauntings & Ghost Stories
36

olästa

/ 36

Moomin_Mama

,

augusti

2015
June: Gothic Pulp & Weird Fiction
55

olästa

/ 55

mathgirl40

,

juli

2015
Peace2's tiptoes nervously into Horror!
31

olästa

/ 31

Moomin_Mama

,

juni

2015
May: Women and Non-English
48

olästa

/ 48

Moomin_Mama

,

juni

2015
skrouhan gets the spooks in 2015!
11

olästa

/ 11

Moomin_Mama

,

maj

2015
April: Graphic Novels and Short Stories
65

olästa

/ 65

Moomin_Mama

,

maj

2015
Roberta's (luvamystery65) Horror list 2015
16

olästa

/ 16

saraslibrary

,

april

2015
Our year ahead!
94

olästa

/ 94

LibraryCin

,

april

2015
March: Victorian Gothic
65

olästa

/ 65

sturlington

,

mars

2015
February 2015 Horror Reads - Supernatural
102

olästa

/ 102

mathgirl40

,

mars

2015
Sara's Dungeon
24

olästa

/ 24

saraslibrary

,

februari

2015
January 2015 Horror! Read - Traditional/classic Gothic works
60

olästa

/ 60

saraslibrary

,

februari

2015
Lovecraft on Gothic horror
4

olästa

/ 4

Moomin_Mama

,

januari

2015
January: Original/classic Gothic works
1

oläst

/ 1

LibraryCin

,

januari

2015
Horror in General....What are we Reading?
11

olästa

/ 11

saraslibrary

,

december

2014
Cathy's (ccookie) Horror of Horrors
16

olästa

/ 16

saraslibrary

,

december

2014
This is a feature balloon