75 Books Challenge for 2015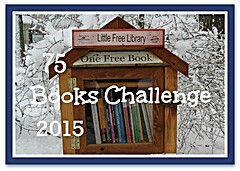 Den här gruppen är officiellt vilande. Sånt händer.
Läs här om hur du gör för att återuppliva gruppen eller skapa en ny om samma ämne.
Anyone can join. Just start a thread and begin listing the books you have read in 2015. You don't have to begin on January 1! Last year, some members just listed their titles and authors while others posted a mini-review of each book. It's all up to you. It turns out we care less about the numbers than we do about the exchange of book info and the community of readers.

We hope you'll join us, but be forewarned. We like to comment on each other's threads and we've found our stacks of books to be read have grown exponentially!

Note: Please put your username in your thread title. This makes it much easier for folks to find you. Thanks!

New folks, start here: Welcome To New Friends

The group wikis:
75er's Wiki
2015 Threadbook

Have fun!
Diskussion

Diskussion

Meddelanden

Senaste inlägget

Tutored read: Mansfield Park by Jane Austen - Thread 2
159

olästa

/ 159

kac522

,

juni

2022
Tutored read: Mansfield Park by Jane Austen
218

olästa

/ 218

lyzard

,

juni

2022
kidzdoc Reads (and Cooks) Globally in 2015: Part 9
278

olästa

/ 278

jamesalexs

,

januari

2019
Joe's Book Cafe 2015 Door 18
278

olästa

/ 278

jnwelch

,

december

2018
Group read: Phineas Redux by Anthony Trollope
94

olästa

/ 94

lyzard

,

juli

2018
Tutored read: Italian Mysteries by Francis Lathom
253

olästa

/ 253

SqueakyChu

,

mars

2018
Group read: The Eustace Diamonds by Anthony Trollope
137

olästa

/ 137

luvamystery65

,

november

2017
The Liaden Universe Shared Read
108

olästa

/ 108

jnwelch

,

april

2017
5th Year attempt - Fingers Crossed!
7

olästa

/ 7

drneutron

,

december

2016
Lunacat's reading and other ramblings - The Happy Version, Part Sojjta (6)
349

olästa

/ 349

humouress

,

november

2016
Christmas Swap 2016
3

olästa

/ 3

mahsdad

,

november

2016
Jolerie's all things Bookalicious Pt. 5
312

olästa

/ 312

humouress

,

september

2016
Pat (phebj) Resolves to Read More in 2015
148

olästa

/ 148

Carmenere

,

augusti

2016
Markon's 2015 thread
81

olästa

/ 81

markon

,

juni

2016
Auntie Clio - Parties/Reads On - Page 2
182

olästa

/ 182

orsolina

,

juni

2016
Quaisior's 2016 75 Book Challenge
1

oläst

/ 1

Quaisior

,

mars

2016
Zoë's 2015 Challenge
65

olästa

/ 65

_Zoe_

,

februari

2016
Morphy Marches through 2015 - Part 4
261

olästa

/ 261

Berly

,

februari

2016
Katelisim's 2015
76

olästa

/ 76

katelisim

,

januari

2016
Piyush's Logbook - 2015
72

olästa

/ 72

The_Hibernator

,

januari

2016
Dara Tries for 75
73

olästa

/ 73

dara85

,

januari

2016
blackdogbooks - the dawg pound
114

olästa

/ 114

blackdogbooks

,

januari

2016
Jennyifer24's 75 book challenge 2015
136

olästa

/ 136

lovelyluck

,

januari

2016
lottpoet's 2015 reading
51

olästa

/ 51

lottpoet

,

januari

2016
Karen O (klobrien2)'s Amazing Reading Log - 2015
154

olästa

/ 154

klobrien2

,

januari

2016
A Fresh Page for drachenbraut23 (Bianca) in 2015
278

olästa

/ 278

humouress

,

januari

2016
Bonniejune54 Tries Again
59

olästa

/ 59

BonnieJune54

,

januari

2016
Humouress is here to try for the sixth time; part II
118

olästa

/ 118

humouress

,

januari

2016
Amir's Book Challenge 2015
20

olästa

/ 20

WilsonKoP

,

januari

2016
HanGerg Reads Less Randomly in 2015
140

olästa

/ 140

sibylline

,

januari

2016
rretzler's 75 - Trying this once again! - Part II
68

olästa

/ 68

archerygirl

,

januari

2016
CarlyM's 2016 challenge
5

olästa

/ 5

drneutron

,

januari

2016
avatiakh is busy reading in 2015 #3
333

olästa

/ 333

avatiakh

,

januari

2016
Arubabookwoman's World of Books 2015
243

olästa

/ 243

maggie1944

,

januari

2016
brewergirl's 75 book list for 2015
17

olästa

/ 17

brewergirl

,

januari

2016
Mark's Reading Place: Happy Holidays! #25
263

olästa

/ 263

laytonwoman3rd

,

januari

2016
Christmas Swap 2015
256

olästa

/ 256

benitastrnad

,

januari

2016
flissp: I'm back again said Norah...
53

olästa

/ 53

kidzdoc

,

januari

2016
Storeetllr's (Mary) 2015 Journey Through Bookland Part 5: Fall Into Books!
288

olästa

/ 288

Storeetllr

,

januari

2016
My Second Try
75

olästa

/ 75

drneutron

,

januari

2016
Beeg's 75 book Challenge 2015
172

olästa

/ 172

drneutron

,

januari

2016
Nebula21's 75 Books Challenge for 2015
81

olästa

/ 81

drneutron

,

januari

2016
Norabelle414's Page 100: Relinquish
22

olästa

/ 22

norabelle414

,

januari

2016
Chelle seeks more hours in the day in 2015!
175

olästa

/ 175

norabelle414

,

januari

2016
alsvidur's 2015 list
121

olästa

/ 121

alsvidur

,

januari

2016
SqueakyChu is "bugged" - page 4
48

olästa

/ 48

SqueakyChu

,

januari

2016
souloftherose's year of (mostly) unplanned reading - part 5
122

olästa

/ 122

avatiakh

,

januari

2016
Rachel (aktakukac) Reads in 2015
153

olästa

/ 153

aktakukac

,

januari

2016
brenpike reads
18

olästa

/ 18

brenpike

,

januari

2016
brenpike reads
1

oläst

/ 1

brenpike

,

januari

2016
JohnSimpson - Once more into the breach 2015, The Final Countdown
268

olästa

/ 268

johnsimpson

,

januari

2016
ted74ca's ready for the 2015 Challenge
77

olästa

/ 77

ted74ca

,

januari

2016
Interesting Articles
38

olästa

/ 38

0wllight

,

januari

2016
Walklover's 2015 75 Book Challenge
164

olästa

/ 164

jnwelch

,

januari

2016
Laytonwoman's Bookin' to the Finish Line of 2015 (Fourth Quarter)
256

olästa

/ 256

jnwelch

,

januari

2016
Luxx's Haunted Halls
74

olästa

/ 74

London_StJ

,

januari

2016
Connie is back - part four
289

olästa

/ 289

The_Hibernator

,

januari

2016
tungsten_peerts avoids a personal life in 2015 using this pile of over 75 books
26

olästa

/ 26

tungsten_peerts

,

januari

2016
Carsten's (ctpress) 2015 - Take and Read - part 2
163

olästa

/ 163

ctpress

,

januari

2016
BRITISH AUTHOR CHALLENGE IN 2016 - PLANNING THREAD
50

olästa

/ 50

benitastrnad

,

januari

2016
Sarahbird's 2015 Reads
9

olästa

/ 9

sarahbird

,

januari

2016
SkuldOMG's 2015
11

olästa

/ 11

SkuldOMG

,

januari

2016
lit_chick's 2015 Reading (5)
280

olästa

/ 280

lit_chick

,

januari

2016
Paul C's a mellow fellow in 2015 - 19th; Close out Thread
178

olästa

/ 178

benitastrnad

,

januari

2016
BRITISH AUTHOR CHALLENGE OCTOBER 2015 - DUNMORE & MITCHELL
71

olästa

/ 71

benitastrnad

,

januari

2016
The very booky adventures of evilmoose III
142

olästa

/ 142

Deedledee

,

januari

2016
Deedledee tracks her reading in 2015
133

olästa

/ 133

Deedledee

,

januari

2016
Take It Or Leave It Challenge - December 2015 - Page 1
191

olästa

/ 191

susanna.fraser

,

januari

2016
bluesalamanders 2015
135

olästa

/ 135

bluesalamanders

,

januari

2016
vancouverdeb attempts to read in 2015 thread 6
81

olästa

/ 81

vancouverdeb

,

januari

2016
Ron's Adventures in Time and Space in 2015
256

olästa

/ 256

RBeffa

,

januari

2016
ANZAC Author Reading Challenge 2015
99

olästa

/ 99

avatiakh

,

januari

2016
MichiganTRumpet Blasts into 2015!
92

olästa

/ 92

michigantrumpet

,

januari

2016
Weejane's 2015 Attempt at 75!
73

olästa

/ 73

weejane

,

januari

2016
Cheli's concentrating on mysteries and histories in 2015 Part 2
153

olästa

/ 153

cyderry

,

januari

2016
bell7 (Mary) reads with only a little planning in 2015 - the final thread
192

olästa

/ 192

bell7

,

januari

2016
Bibliotecara's Books in 2015
13

olästa

/ 13

bibliotecara

,

januari

2016
Paul S's reading list and other stuff - part 4
183

olästa

/ 183

paulstalder

,

januari

2016
NatalieSW 75B Challenge
49

olästa

/ 49

NatalieSW

,

januari

2016
Banjo Reads in 2015 # 2
288

olästa

/ 288

banjo123

,

januari

2016
fuzzi's Rolling Along on Her Way to 75
175

olästa

/ 175

fuzzi

,

januari

2016
Awaywithfairies Reading List for 2015
18

olästa

/ 18

awaywithfairies

,

januari

2016
Bragging and Backslapping
27

olästa

/ 27

gennyt

,

januari

2016
Ardachy aims for 75 again
65

olästa

/ 65

ardachy

,

januari

2016
75 Books - Year 8 - Fourpawz2 in 2015 - Thread 2
173

olästa

/ 173

souloftherose

,

januari

2016
SandDune's 2015 Reading - Part 4
226

olästa

/ 226

tiffin

,

januari

2016
inge87's 2015: Miles and Miles of Reading, Part II
185

olästa

/ 185

inge87

,

januari

2016
MickyFine Branches Out in 2015: Twig 5
157

olästa

/ 157

saraslibrary

,

januari

2016
Steve the Curmurdgeon (scvlad) 2015
206

olästa

/ 206

rosalita

,

januari

2016
Jessibud2's second attempt to hit the 75 mark!
162

olästa

/ 162

jessibud2

,

januari

2016
DFED Is Keen For 2015!
52

olästa

/ 52

DFED

,

januari

2016
Samantha_kathy plans her reads again in 2015!
43

olästa

/ 43

thornton37814

,

januari

2016
Auntie Clio - Preposterous Reading Lists - Page 4
133

olästa

/ 133

AuntieClio

,

januari

2016
CBL's 2015 Reading, Part 7
327

olästa

/ 327

thornton37814

,

januari

2016
Hibernator's last stand 2015
109

olästa

/ 109

qebo

,

januari

2016
leahbird keeps up the good fight in 2015 (3)
87

olästa

/ 87

thornton37814

,

januari

2016
Librarian 1204
68

olästa

/ 68

librarian1204

,

januari

2016
thornton37814's 2015 Reading - Thread 5
231

olästa

/ 231

thornton37814

,

januari

2016
Cushla reads in 2015
249

olästa

/ 249

laytonwoman3rd

,

januari

2016
drneutron's Read-o-Rama (Part 5)
142

olästa

/ 142

drneutron

,

januari

2016
This is a feature balloon