Unread Support Group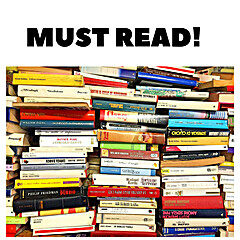 Den här gruppen är officiellt vilande. Sånt händer.
Om du vill återuppliva den här gruppen, eller skapa en ny grupp för samma ämne se denna sida.
For those finding it difficult to break down their "Unread" book pile. This may be because you just love acquiring new books and constantly replenish your Unread pile. Or you may be too busy with other less important things. This group is to discuss your predicament and encourage one another to READ away the Unreads.
Diskussion

Diskussion

Meddelanden

Senaste inlägget

2020 is a unique case

2 olästa

/ 2

bernsad

,

april

2020
2019 incidents of infamy

6 olästa

/ 6

rosalita

,

maj

2019
2018 incidents of infamy

11 olästa

/ 11

MrsLee

,

oktober

2018
I am a practitioner of the ancient art of 'tsundoku'...

7 olästa

/ 7

MarthaJeanne

,

mars

2018
Collecting vs Reading

26 olästa

/ 26

Cecrow

,

november

2017
Maintaining the TBR list

7 olästa

/ 7

MrsLee

,

november

2017
Most intimidating tbr?

8 olästa

/ 8

MrsLee

,

november

2017
Ereaders and the TBR Pile

9 olästa

/ 9

MrsLee

,

november

2017
literature abuse

35 olästa

/ 35

MarthaJeanne

,

november

2017
One Way to Read the TBR books

29 olästa

/ 29

MrsLee

,

oktober

2017
What should be the goal?

24 olästa

/ 24

MarthaJeanne

,

augusti

2017
100 things challenge - apply it to books?

8 olästa

/ 8

MrsLee

,

augusti

2017
Tenth Thingaversary

7 olästa

/ 7

macsbrains

,

juni

2017
Cataloguing and culling - but running out of time . . .

9 olästa

/ 9

Cecrow

,

juni

2017
One simple rule

17 olästa

/ 17

bernsad

,

maj

2017
2017 incidents of infamy

14 olästa

/ 14

Cecrow

,

januari

2017
No sympathy in the family

3 olästa

/ 3

.Monkey.

,

april

2016
2016 incidents of infamy

15 olästa

/ 15

karenmarie

,

april

2016
New member admission

22 olästa

/ 22

MarthaJeanne

,

mars

2016
Culling vs Surrender

1 oläst

/ 1

Cecrow

,

september

2011
I can't stop buying books.

62 olästa

/ 62

testdummy

,

december

2010
TBR pile?

30 olästa

/ 30

karenmarie

,

januari

2010
I just can't stop adding books and the holidays didn't help

2 olästa

/ 2

Jenson_AKA_DL

,

juni

2008
Wish Lists, and Rationalizing....

3 olästa

/ 3

Jenson_AKA_DL

,

juni

2008
Books that I want to have read.

15 olästa

/ 15

Severn

,

juni

2008
Starting on the TBR pile...

2 olästa

/ 2

raggedtig

,

november

2007
Reading too many books at one time

18 olästa

/ 18

gradvmedusa

,

maj

2007
Who's the Most Addicted?

1 oläst

/ 1

Redthing

,

april

2007
This is a feature balloon