All Writers Considered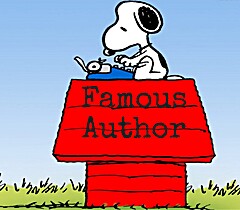 Den här gruppen är officiellt vilande. Sånt händer.
Läs här om hur du gör för att återuppliva gruppen eller skapa en ny om samma ämne.
Let's be honest, we can't be book lovers without loving authors, too. Everyone has favorite writers, those wordsmiths whose next works we stand in line for as if they were the second coming of the latest Apple gadget. Many of us have stories about writers we've met or interacted with and no place to "dine out on them." And when a beloved author passes to that great bookstore in the sky, we wish to reminisce about our first encounter with his or her work.

Writers form us with their words, be they the stuff of fiction, nonfiction, poetry, or plays. As much as the works they create we are also the creations of the writers whom we read.

Now there is a place on LibraryThing for you to discuss the living and the dead authors most loved or even despised by you. Here is where you can bring your opinions about the best and worst, the most famous and obscure, the writers of every land, and one day, perhaps, those who write their books ex-Earth.
Diskussion

Diskussion

Meddelanden

Senaste inlägget

ALERT! Fans of Tan Twan Eng
1

oläst

/ 1

Limelite

,

februari

25
Tell Us about "Writers' Homes I've Visited"
31

olästa

/ 31

varielle

,

oktober

2020
Authors "Down Under" Are Writing the Books I Want to Read
6

olästa

/ 6

Limelite

,

juli

2019
Author discoveries in 2018
1

oläst

/ 1

Cecrow

,

september

2018
Authors Who Write Fiction about Authors (and other real people)
3

olästa

/ 3

Limelite

,

december

2017
2017: Your Favorite Authors of the Year
4

olästa

/ 4

Limelite

,

december

2017
2017: New-To-Me Authors
26

olästa

/ 26

Limelite

,

december

2017
Which 20th C Author Do We Need to Revisit?
36

olästa

/ 36

Limelite

,

januari

2017
Santa Thing Gifts: Authors I Received
2

olästa

/ 2

Limelite

,

december

2016
That Time of Year -- Looking Back @ the Best & Worst of 2016
1

oläst

/ 1

Limelite

,

december

2016
2016 New-to-Me Authors Reports
21

olästa

/ 21

Limelite

,

december

2016
Who Are the 2016 NBA Winners?
6

olästa

/ 6

Limelite

,

november

2016
Who are you in love with this week?
51

olästa

/ 51

Limelite

,

november

2016
"He Died a Poet's Death"
1

oläst

/ 1

Limelite

,

oktober

2016
"Is Donald Trump a Civilized Man?" I asked Anton Chekov.
6

olästa

/ 6

Limelite

,

september

2016
Books about books
17

olästa

/ 17

Limelite

,

september

2016
Consider the Winners -- for Fiction
1

oläst

/ 1

Limelite

,

september

2016
Comprehensible scientists
19

olästa

/ 19

Limelite

,

augusti

2016
Prague loves Kafka
5

olästa

/ 5

rocketjk

,

juni

2016
mmignano is new here! Loves to read and write!
5

olästa

/ 5

Cecrow

,

maj

2016
I Vow to Read __________: My New Year's Author(s) Resolution
25

olästa

/ 25

dianeham

,

april

2016
A Large Heart Has Stopped -- Pat Conroy
4

olästa

/ 4

weener

,

mars

2016
We Need More Southern African American Writers
30

olästa

/ 30

TinaMcElroyAnsa

,

mars

2016
Umberto Eco
16

olästa

/ 16

Cecrow

,

mars

2016
Have You Met a Famous Author?
24

olästa

/ 24

Christofora

,

februari

2016
Who's Your Favorite Political Writer & Book?
41

olästa

/ 41

artturnerjr

,

februari

2016
It's Black History Month! Who Will You Celebrate With?
7

olästa

/ 7

Limelite

,

februari

2016
The Emperor's New Clothes Book.
6

olästa

/ 6

SpikeSix

,

januari

2016
Politics -- Quotable Authors' Quotes We Like to Quote
2

olästa

/ 2

artturnerjr

,

januari

2016
An Affair to Remember
7

olästa

/ 7

Limelite

,

januari

2016
Best New Author (Discovered by Me) in 2015
25

olästa

/ 25

SpikeSix

,

januari

2016
Talkies -- Quotable Authors' Quotes We Like to Quote
6

olästa

/ 6

Cecrow

,

januari

2016
The "Besties" -- 2015 Fly-Over Best Authors
14

olästa

/ 14

Limelite

,

december

2015
Is there still any point in collecting books?
23

olästa

/ 23

Limelite

,

december

2015
Are you giving or getting holiday books?
21

olästa

/ 21

ahef1963

,

december

2015
Looking for a Logo
14

olästa

/ 14

geneg

,

december

2015
Are all writers drunks? Or just the good ones?
26

olästa

/ 26

Limelite

,

december

2015
We Are All French/Nous Sommes Tous Français
22

olästa

/ 22

geneg

,

december

2015
Favourite authors by genre
17

olästa

/ 17

EllsieFind

,

november

2015
Memoirs?
42

olästa

/ 42

ahef1963

,

november

2015
Bring back Snoopy!
8

olästa

/ 8

mysterymax

,

november

2015
My Love/Hate Relationship with __________
8

olästa

/ 8

.Monkey.

,

november

2015
"I Was Born Under a Wand'rin' Star"
22

olästa

/ 22

Lynxear

,

november

2015
Having the Last Word -- Authors' Famous Farewells
3

olästa

/ 3

Limelite

,

november

2015
What qualities make for a favorite author?
36

olästa

/ 36

reading_fox

,

november

2015
Short fiction authors
10

olästa

/ 10

streamsong

,

november

2015
Trick 'r' Treat Tell Us Who the Best Ghost Story Teller Is
38

olästa

/ 38

inkdrinker

,

november

2015
Authors yet to be sampled
59

olästa

/ 59

t.EllisBell

,

oktober

2015
Unusual Murdering Authors
16

olästa

/ 16

Cliff-Rhu-Rhubarb

,

oktober

2015
When an author's powers wane
25

olästa

/ 25

Limelite

,

oktober

2015
Remembrance Day/Memorial Day
9

olästa

/ 9

ahef1963

,

oktober

2015
Henning Mankell, RIP
9

olästa

/ 9

Cecrow

,

oktober

2015
Who Would You Invite?
12

olästa

/ 12

SomeGuyInVirginia

,

oktober

2015
Favourite authors
41

olästa

/ 41

Cecrow

,

oktober

2015
Place Your Bets -- The 2015 Nobel Prize for Literature
14

olästa

/ 14

Limelite

,

oktober

2015
Don't get caught dying before you read this.
16

olästa

/ 16

lorax

,

oktober

2015
An author's penultimate work
15

olästa

/ 15

.Monkey.

,

oktober

2015
This is a feature balloon