75 Books Challenge for 2019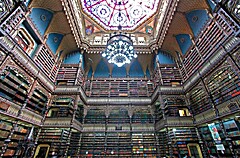 Anyone can join. Just start a thread and begin listing the books you have read in 2019. You don't have to begin on January 1! Last year, some members just listed their titles and authors while others posted a mini-review of each book. It's all up to you. It turns out we care less about the numbers than we do about the exchange of book info and the community of readers.

We hope you'll join us, but be forewarned. We like to comment on each other's threads and we've found our stacks of books to be read have grown exponentially!

Note: Please put your username in your thread title. This makes it much easier for folks to find you. Thanks!

New folks, start here: Welcome To New Friends



The group wikis:

- 75er's Wiki - Here's where we keep links to our important threads!

- 2019 Threadbook - Looking for someone's thread? Try here!



Diskussion

Diskussion

Meddelanden

Senaste inlägget

Group Read of Robert Jordan's 'Wheel of Time' series - (2) The Great Hunt
11

olästa

/ 11

humouress

,

september

18
INDIEspensable Books for 2019
67

olästa

/ 67

Berly

,

november

2021
2019 "catching up" Maggie1944 (aka Karen M.)
63

olästa

/ 63

maggie1944

,

oktober

2021
Ranger's Apprentice Group Read
51

olästa

/ 51

humouress

,

september

2021
TIFFIN'S Second for 2019
98

olästa

/ 98

tiffin

,

januari

2021
libros
1

oläst

/ 1

VicenteBorjaJimenez

,

november

2020
Paul C Back to Basics in 2019 Part 11
298

olästa

/ 298

fuzzi

,

oktober

2020
Take It Or Leave It - birthstone colour challenge
119

olästa

/ 119

humouress

,

april

2020
Late starting my 2020 75 Books Challenge
6

olästa

/ 6

JenMDB

,

mars

2020
Lili's reads 2020
1

oläst

/ 1

tigerlyly

,

februari

2020
Marilynne Robinson: American Authors Challenge December 2019
12

olästa

/ 12

laytonwoman3rd

,

februari

2020
Roni Reads in 2019: Part 7
157

olästa

/ 157

sirfurboy

,

januari

2020
dk_phoenix Takes Flight in 2019
78

olästa

/ 78

humouress

,

januari

2020
Lunacat places a bookmark for 2019
79

olästa

/ 79

humouress

,

januari

2020
Randy's reads in 2019
87

olästa

/ 87

RandyMetcalfe

,

januari

2020
Take It or Leave It Challenge - December 2019 - Page 1
216

olästa

/ 216

humouress

,

januari

2020
Cheli's back for another 75 Challenge in 2019
33

olästa

/ 33

Berly

,

januari

2020
Walklover's 75 Books Challenge for 2019
162

olästa

/ 162

walklover

,

januari

2020
The 2019 Nonfiction Challenge Part XII: "I've Always Been Curious About..." Books in December
37

olästa

/ 37

benitastrnad

,

januari

2020
The 2019 Nonfiction Challenge Part XI: Creators and Creativity in November
45

olästa

/ 45

benitastrnad

,

januari

2020
Humouress is here once more for 2019 (thread 3)!
229

olästa

/ 229

humouress

,

januari

2020
SHARED READ: Saddle up for Dick Francis' horsy adventures! Book Two
156

olästa

/ 156

Dejah_Thoris

,

januari

2020
lottpoet's 2019 reading
66

olästa

/ 66

lottpoet

,

januari

2020
alsvidur's 2019 list
64

olästa

/ 64

alsvidur

,

januari

2020
Nathalie's (Deern's) Reading in 2019 Part 1
155

olästa

/ 155

charl08

,

januari

2020
souloftherose's 2019 reading - thread the second
143

olästa

/ 143

souloftherose

,

januari

2020
swynn's thread for 2019: volume 3
261

olästa

/ 261

swynn

,

januari

2020
lycomayflower acknowledges the paradox of choice in 2019--part 2
77

olästa

/ 77

lycomayflower

,

januari

2020
Norabelle414's Trilogy in Two Parts
210

olästa

/ 210

lycomayflower

,

januari

2020
SomeGuyInVirginia and The Squeaking Talisman Mystery: 2019 reads
215

olästa

/ 215

richardderus

,

januari

2020
Lackberg and Leon: A Scandicrime vs Venetian Mystery Challenge
195

olästa

/ 195

benitastrnad

,

januari

2020
Robin (rretzler) Reads in 2019 - Numéro trois (3)
78

olästa

/ 78

Berly

,

januari

2020
HanGerg is aiming for the magic 75 in 2019
109

olästa

/ 109

HanGerg

,

januari

2020
Group read of Robin Hobb's Farseer/Realm of the Elderlings series
9

olästa

/ 9

souloftherose

,

januari

2020
Patrick tries again - rplinke
32

olästa

/ 32

rplinke

,

januari

2020
Meanderer-ing through 2019
105

olästa

/ 105

meanderer

,

januari

2020
World of Penguins: charl08 travels the shelves #13
186

olästa

/ 186

charl08

,

januari

2020
2019: Roundballnz ( Alex) Wanderings thru time .....
38

olästa

/ 38

roundballnz

,

januari

2020
Donna's Book Therapy: Third Session
303

olästa

/ 303

Donna828

,

januari

2020
Kidzdoc Reads Black Male Writers for Our Time in 2019, Chapter 7
108

olästa

/ 108

kidzdoc

,

januari

2020
Caroline's Quiet Corner 2019: Chapter 4
311

olästa

/ 311

laytonwoman3rd

,

januari

2020
SandDune reads 75 in 2019 - Thread 4
58

olästa

/ 58

SandDune

,

januari

2020
Group Read of Robert Jordan (and Brandon Sanderson's) 'Wheel of Time' series
54

olästa

/ 54

drneutron

,

januari

2020
Lucy's (Sibyx) Quarterly Report: Autumn into Winter 2019
198

olästa

/ 198

drneutron

,

januari

2020
LeahBird's List of Books (Probably Listened to in the Car) in 2019!
38

olästa

/ 38

leahbird

,

januari

2020
Kathy's (kmartin802's) 4th 2019 Thread
30

olästa

/ 30

kmartin802

,

januari

2020
Cushla's books in 2019
55

olästa

/ 55

Oberon

,

januari

2020
Lori (thornton37814) Reads with Her Fur Boys in 2019 - Thread 5
280

olästa

/ 280

thornton37814

,

januari

2020
Cait86 Reads in 2019
197

olästa

/ 197

blissnickrot

,

januari

2020
Carmenere's Catchupuary, 2019
19

olästa

/ 19

Carmenere

,

januari

2020
Mamie's 2019 Madness (Page 7)
211

olästa

/ 211

Carmenere

,

januari

2020
Paul S in 2019: Winter
118

olästa

/ 118

paulstalder

,

januari

2020
Ron still dreams of books and things part 2
146

olästa

/ 146

RBeffa

,

januari

2020
DianeKeenoy Trying to Read More of my Own Books in 2019
222

olästa

/ 222

johnsimpson

,

januari

2020
library_mistress is reading in 2019
38

olästa

/ 38

mstrust

,

januari

2020
AMQS: Anne's 2019 Reading Recovery -- 2
226

olästa

/ 226

MickyFine

,

januari

2020
Streamsong #5 - Winter coming early; Curling up with books
166

olästa

/ 166

streamsong

,

januari

2020
Rachel Reads in 2019 Part 2
140

olästa

/ 140

aktakukac

,

januari

2020
Lynda (Carmenere)'s Book Nook- The 4th nook
189

olästa

/ 189

Carmenere

,

januari

2020
(Sir)Thomas' way through the year - with books and friends (Part 2)
111

olästa

/ 111

SirThomas

,

januari

2020
Sir Furboy's 75 Books in 2019 - Part 2
132

olästa

/ 132

SirThomas

,

januari

2020
2019: Lizzie Reads Less but Buys More - 3
217

olästa

/ 217

LizzieD

,

januari

2020
Quaisior's 2019 75 Book Challenge
13

olästa

/ 13

quondame

,

januari

2020
So Many Books: Dejah_Thoris Keeps Reading....
78

olästa

/ 78

quondame

,

januari

2020
calm reading 75 and beyond
54

olästa

/ 54

quondame

,

januari

2020
fuzzi's "Six Bits" Reading Challenge for 2019
321

olästa

/ 321

fuzzi

,

januari

2020
Ellen seeks balance in 2019 - Thread 10
237

olästa

/ 237

laytonwoman3rd

,

januari

2020
Kathy's (kac522) 2019 Reading, Book by Book
139

olästa

/ 139

kac522

,

januari

2020
libraryperilous stars in Peril! On Mount TBR! (out now on LT Talk)
69

olästa

/ 69

LibraryPerilous

,

januari

2020
lkernagh (Lori) returns to binge read authors and series in 2019 - 3nd Thread
149

olästa

/ 149

lkernagh

,

januari

2020
BerlinBibliophile's Books of 2019
142

olästa

/ 142

BerlinBibliophile

,

januari

2020
Tangledthread is back again for 2019
41

olästa

/ 41

tangledthread

,

januari

2020
Laytonwoman3rd's Thirteenth Year: Season Four
155

olästa

/ 155

laytonwoman3rd

,

januari

2020
Sean191's 2019 book challenge
48

olästa

/ 48

Sean191

,

januari

2020
Nittnut's Art of Reading 2019 - Three
52

olästa

/ 52

nittnut

,

januari

2020
Ape's 2019 Challenge
274

olästa

/ 274

Ape

,

januari

2020
jessibud2 reads off her own shelves in 2019 - chapter 6
148

olästa

/ 148

Caroline_McElwee

,

januari

2020
A Year of Normality and Tea No 6
188

olästa

/ 188

johnsimpson

,

januari

2020
Foxen books in 2019
84

olästa

/ 84

Foxen

,

januari

2020
Copperskye Reads In 2019 - Part 2
275

olästa

/ 275

Copperskye

,

januari

2020
richardderus's fifteenth thread of 2019
299

olästa

/ 299

Familyhistorian

,

januari

2020
Chatterbox Launches Into 2019: Act the Second
179

olästa

/ 179

Chatterbox

,

januari

2020
CarlyM tries again in 2019
11

olästa

/ 11

carlym

,

januari

2020
RebaRelishesReading in 2019 - 4th quarter
248

olästa

/ 248

RebaRelishesReading

,

januari

2020
klobrien2 Karen O's Reading Extravaganza in 2019!
317

olästa

/ 317

klobrien2

,

januari

2020
Banjo keeps reading in 2019 Thread # 2
134

olästa

/ 134

banjo123

,

januari

2020
SharronA's 75 for 2019
20

olästa

/ 20

SharronA

,

januari

2020
Mary (bell7) reads extravagantly in 2019, the sixth and final thread
202

olästa

/ 202

bell7

,

januari

2020
Joe's Book Cafe 19
307

olästa

/ 307

jnwelch

,

januari

2020
Holidays on Ice- mstrust's #8
190

olästa

/ 190

mstrust

,

januari

2020
archerygirl sales Mount TBR in 2019 (1)
95

olästa

/ 95

archerygirl

,

januari

2020
Whisper1 (Linda's Sixth Thread of 2019)
67

olästa

/ 67

Whisper1

,

januari

2020
jennyifer24 reads in 2019
156

olästa

/ 156

jennyifer24

,

januari

2020
DisassemblyOfReason's 75 books challenge for 2019
15

olästa

/ 15

DisassemblyOfReason

,

januari

2020
EllaTim's Reading and More in 2019-2
285

olästa

/ 285

EllaTim

,

januari

2020
karenmarie's eclectic reading - chapter 13 - last of the year?
174

olästa

/ 174

karenmarie

,

januari

2020
Ellie (elliepotten) reads and reviews in 2019
159

olästa

/ 159

elliepotten

,

januari

2020
Anita (FAMeulstee) goes where the books take her in 2019 (10)
180

olästa

/ 180

FAMeulstee

,

januari

2020
BRITISH ISLES AUTHOR CHALLENGE 2019 - GENERAL THREAD
95

olästa

/ 95

EllaTim

,

januari

2020
Anita ( figs) Reads in 2019 -Second Thread
200

olästa

/ 200

figsfromthistle

,

januari

2020
This is a feature balloon