LC Classification Challenge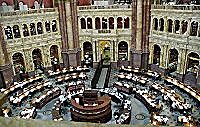 I wanted to make a sister challenge to the Dewey Decimal Challenge since the two classifications are so different. How many books have you read from each Library of Congress subject area?

Sort your library by LC Classification, match up with the headings here (and on the linked subject area pages), and let us know what you've read so far!
Diskussion

Diskussion

Meddelanden

Senaste inlägget

varielle's LoC Challenge

20 olästa

/ 20

varielle

,

maj

26
lorax's LoC challenge

99 olästa

/ 99

lorax

,

oktober

2020
Carly's New LC List

41 olästa

/ 41

carlym

,

mars

2019
Dejah_Thoris' LOC Classification Challenge

14 olästa

/ 14

Dejah_Thoris

,

december

2018
Bedda's LC Challenge

15 olästa

/ 15

bedda

,

februari

2018
Finding missing LCCN

8 olästa

/ 8

alsvidur

,

januari

2017
bunnygirl's LoC challenge

13 olästa

/ 13

bunnygirl

,

november

2016
Blank LC Schedule Outline

10 olästa

/ 10

A.E.Martin

,

juni

2016
LoC, Could it be? - fundevogel

24 olästa

/ 24

fundevogel

,

mars

2016
Dave's LC challenge

9 olästa

/ 9

Merryann

,

februari

2014
tjsjohanna - I want to try this!

24 olästa

/ 24

tjsjohanna

,

april

2013
My 2011 LOC Challenge

26 olästa

/ 26

MarissaKings

,

december

2012
1 - 2 - 3! BF for the L-o-C!

36 olästa

/ 36

GoofyOcean110

,

juni

2012
Sanz LC Challenge

4 olästa

/ 4

sanz57

,

mars

2012
tuckea - slow motion LC challenge

11 olästa

/ 11

tuckea

,

mars

2012
Yay! I love making lists

2 olästa

/ 2

benuathanasia

,

januari

2012
fleela's (less messy) LoC Challenge

24 olästa

/ 24

DaynaRT

,

februari

2011
AnnaClaire's re-created list

21 olästa

/ 21

AnnaClaire

,

september

2010
Nickelini's LoC Challenge

6 olästa

/ 6

Nickelini

,

augusti

2010
sgstarling's LOC path

3 olästa

/ 3

sgstarling

,

juli

2010
fleela's LoC Challenge

24 olästa

/ 24

DaynaRT

,

maj

2010
Carly's LC list

21 olästa

/ 21

carlym

,

maj

2010
What (sub)heading are you reading now?

10 olästa

/ 10

fundevogel

,

maj

2010
Looking for recommendations: M & N (music and art)

13 olästa

/ 13

GoofyOcean110

,

april

2010
Kaeli LC Challenge List

24 olästa

/ 24

kaelirenee

,

april

2010
tagging LCC categories

2 olästa

/ 2

amckie

,

september

2009
amckie's LoC challenge

5 olästa

/ 5

amckie

,

september

2009
The Great LOC *Collecting* Game

1 oläst

/ 1

neopeius

,

september

2009
pamdis lc challenge

2 olästa

/ 2

pamdis

,

september

2009
What do you do about wrong classifications?

6 olästa

/ 6

carlym

,

augusti

2009
Perhaps just a teeny bit obsessed

5 olästa

/ 5

_Zoe_

,

april

2009
dressel26's LC list

9 olästa

/ 9

E59F

,

februari

2009
AnnaClaire's challenge

6 olästa

/ 6

AnnaClaire

,

januari

2009
Looking for suggestions

3 olästa

/ 3

E59F

,

oktober

2008
Group Challenge

23 olästa

/ 23

vpfluke

,

juli

2008
Zoe's LC Classification Challenge

9 olästa

/ 9

_Zoe_

,

juli

2008
Lahochstetler's LC challenge

4 olästa

/ 4

lahochstetler

,

juni

2008
dcmdale list

4 olästa

/ 4

carlym

,

juni

2008
Filling in the difficult categories

3 olästa

/ 3

carlym

,

april

2008
JonSmith's LCC challenge

3 olästa

/ 3

carlym

,

april

2008
Looking for Suggestions: QR and QM

7 olästa

/ 7

kaelirenee

,

februari

2008
How are people handling 'K'?

6 olästa

/ 6

mramos

,

februari

2008
How are people handling E and F?

12 olästa

/ 12

dcmdale

,

januari

2008
Melannen's LC lists

9 olästa

/ 9

Proclus

,

december

2007
My Favorite Subheadings

5 olästa

/ 5

carlym

,

november

2007
Kaeli's TBR List

4 olästa

/ 4

kaelirenee

,

november

2007
mramos LoC Classification Challenge

17 olästa

/ 17

mramos

,

november

2007
Which are you dreading?

8 olästa

/ 8

vpfluke

,

november

2007
TBR list

8 olästa

/ 8

E59F

,

oktober

2007
caffron's LC list

1 oläst

/ 1

caffron

,

oktober

2007
nicole's LC subject area challenge

4 olästa

/ 4

nperrin

,

oktober

2007
unreconstructed's LoC Classification Challenge

4 olästa

/ 4

unreconstructed

,

oktober

2007
This is a feature balloon