Lingua Latina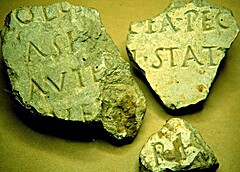 Den här gruppen är officiellt vilande. Sånt händer.
Om du vill återuppliva den här gruppen eller skapa en ny grupp för samma ämne, se denna sida.
For anyone who enjoys Latin, the language of the Romans, the western Church, and -- until recently -- academics of all stripes.

This group also serves as the discussion forum for the translation of Librarything into Latin.
Diskussion

Diskussion

Meddelanden

Senaste inlägget

Lingua Latina Message Board

58 olästa

/ 58

LolaWalser

,

oktober

2020
Textbooks

29 olästa

/ 29

ElenaGwynne

,

september

2013
Latin to amuse

24 olästa

/ 24

MyopicBookworm

,

april

2013
Any homeschoolers out there?

12 olästa

/ 12

ironjaw

,

september

2011
What was your Latin Learning Experience?

20 olästa

/ 20

Feicht

,

april

2011
Help with D'Ooge readng material

7 olästa

/ 7

Feicht

,

oktober

2010
Questions for People Who Know More Latin (and Greek) than You Do

15 olästa

/ 15

varielle

,

juli

2010
Situs Linguae Latinae Interretialis

2 olästa

/ 2

rolandperkins

,

maj

2010
Learning Latin from basics!

31 olästa

/ 31

vpfluke

,

maj

2010
Epistulae

5 olästa

/ 5

barlow304

,

april

2010
About the language...

5 olästa

/ 5

messpots

,

januari

2010
History of Latin

13 olästa

/ 13

rolandperkins

,

december

2009
LibraryThing in Latin : month's names & dates

12 olästa

/ 12

LizzieD

,

juli

2009
Translating LT

5 olästa

/ 5

messpots

,

juni

2009
Style: which forms to use where

8 olästa

/ 8

messpots

,

april

2009
Amo. amas, amat and all that

2 olästa

/ 2

Feicht

,

mars

2009
gift ideas

3 olästa

/ 3

trekmom3

,

november

2008
Oxford Latin Dictionary on sale for 60% off

3 olästa

/ 3

trekmom3

,

november

2008
de re libraria

17 olästa

/ 17

MyopicBookworm

,

november

2007
The Blackwell history of the latin language

1 oläst

/ 1

hnn

,

november

2007
conversational Latin

12 olästa

/ 12

Passer_Invenit

,

oktober

2007
Deciphering the Reverend's gravestone

8 olästa

/ 8

job2007

,

september

2007
Iter ____ : "Journey to where we are"

3 olästa

/ 3

rjohara

,

maj

2007
the irony

1 oläst

/ 1

Rymbeld

,

april

2007
Special Sauce

3 olästa

/ 3

boekerij

,

mars

2007
Tags for latin books

3 olästa

/ 3

Romanus

,

mars

2007
Latin grammars

4 olästa

/ 4

ginnyday

,

mars

2007
CD in latin 8-)

1 oläst

/ 1

sunny

,

november

2006
LibraryThing in Latin

3 olästa

/ 3

boekerij

,

oktober

2006
LT language interface

5 olästa

/ 5

Passer_Invenit

,

oktober

2006
This is a feature balloon