The Green Dragon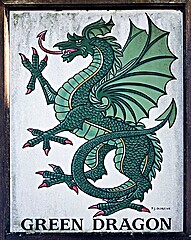 Tolkien, Fantasy, SciFi, mythology - any and all books of wonder! Virtual ale & warm lively chat - join us in LibraryThing's best pub! This group is known as one of the busiest and most welcoming on LibraryThing, so come in, sit down, and enjoy the banter in our virtual home, where we celebrate fine books, and every variety of cheese in the known universe.

Here is our Green Dragon Author List and Related Information! Here are the threads from the Group Reads and Book Discussions we've had to date: Green Dragon Book Discussions Many members have tagged their favorites with the tag: Green Dragon . Our birthdays are here: The Green Dragon Birthday List. Thanks to Morphidae for her hard work on this list! Here's a link to the wiki for many of our Personal Reading Journals. Want to put pictures in your posts? Click here. Want to see our Cluster Map? Click on this:
If you are on FaceBook we have also have The Green Dragon at Library Thing Forum over there. Here is Morphidae's 1001 Fantasy Challenge thread. Here is her list of 111 Science Fictions Books to Read Before a Supernova Kills Us All, and her list of 111 Books to Read Before Your Brain Atrophies.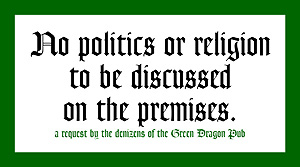 Diskussion

Diskussion

Meddelanden

Senaste inlägget

Fastnålat

— ☞ Political and Religious Discussions are Not Tolerated in this Group ☜

17 olästa

/ 17

MrAndrew

,

februari

27

Fastnålat

— The New How To Do Fancy Things In Your Posts Thread

271 olästa

/ 271

Citizenjoyce

,

juli

13

Fastnålat

— **Master Thread** Personal Reading Journals - UPDATED

18 olästa

/ 18

pgmcc

,

mars

1
Catzteach reads and runs in 2021

149 olästa

/ 149

catzteach

,

Idag

10:44pm
Bookmarque's Padded Cell 2021 - Just One of My Turns (part 2)

104 olästa

/ 104

catzteach

,

Idag

9:26pm
Wheel of Time TV Series (and books?) Discussion

145 olästa

/ 145

stellarexplorer

,

Idag

7:01pm
Karlstar Herds Cats in 3Q2021

213 olästa

/ 213

BookstoogeLT

,

Idag

4:20pm
fuzzi Continues Her 2020 Hindsight for the Second Half of 2021!

185 olästa

/ 185

fuzzi

,

Idag

2:00pm
Athabasca's reading journal…last months of 2021

41 olästa

/ 41

Athabasca

,

Idag

11:50am
Sakerfalcon continues to battle Mount TBR in 2021

309 olästa

/ 309

Sakerfalcon

,

Idag

7:18am
tardis' 2021 reading record

349 olästa

/ 349

Sakerfalcon

,

Idag

6:40am
Reading, Exploring and Piffling with Hugh in 2021, part 4

147 olästa

/ 147

JaydenPoole

,

Idag

6:38am
2021 Reading efforts of PGMCC - Seventh instalment.

17 olästa

/ 17

pgmcc

,

Idag

3:59am
We will miss them: Green Dragon's obits - Part V

270 olästa

/ 270

cindydavid4

,

Igår

10:46pm
Papa Jim (jim53) reads in 2021, part 2

93 olästa

/ 93

Karlstar

,

Igår

7:57pm
The mattries37315 reading thread of 2021

141 olästa

/ 141

mattries37315

,

Igår

6:01pm
Fieldnotes: On Staying Clam & Reading More in 2021 ☽ Part III ☾

103 olästa

/ 103

clamairy

,

Igår

4:54pm
Pilgrim is fallen into the sere, the yellow leaf (2021)

102 olästa

/ 102

Storeetllr

,

Igår

12:37pm
Mary (Storeetllr) Reads in 2021 Pt. 3: A Reader in Winter

44 olästa

/ 44

fuzzi

,

Igår

11:51am
Dune: the 2021 Movie - Discussion

18 olästa

/ 18

cindydavid4

,

Igår

11:26am
Cinematique libraryperilous: Admission free!

99 olästa

/ 99

-pilgrim-

,

lördag

7:16pm
Sumer is icumen in, Pilgrim's going cuckoo (2021)

160 olästa

/ 160

-pilgrim-

,

lördag

3:58pm
Majkia (Jean) and the Quantum Entanglement of Reading

287 olästa

/ 287

majkia

,

fredag

5:24pm
libraryperilous turns the pages of her own books in 2021

179 olästa

/ 179

LibraryPerilous

,

fredag

12:55pm
Rune's Bookish Wanderings 2022

1 oläst

/ 1

RuneFirestar

,

fredag

4:23am
Ridiculous, puzzling and just plain weird book covers

27 olästa

/ 27

Bookmarque

,

torsdag

4:14pm
Categories of Magic Systems

25 olästa

/ 25

-pilgrim-

,

torsdag

4:12pm
November 2021 - Gnodding off or Gnarly?

131 olästa

/ 131

Sakerfalcon

,

torsdag

6:50am
Silversi's TBF (To be finished) pile..

41 olästa

/ 41

Silversi

,

onsdag

11:16pm
The Read goes ever on and on...MrsLee 2021 chapter 3

164 olästa

/ 164

pgmcc

,

onsdag

10:05am
Book Bullets From The Dark Side - Darth Heather's 2021 reads

135 olästa

/ 135

Darth-Heather

,

tisdag

1:36pm
2021 Reading efforts of PGMCC - Sixth instalment.

245 olästa

/ 245

pgmcc

,

måndag

10:11am
Haydninvienna (Richard) finds intelligent life in the universe

214 olästa

/ 214

hfglen

,

måndag

9:59am
Gilroy attempts to get back to reading 2021

81 olästa

/ 81

gilroy

,

november

28
Bad Joke of the Day 12

169 olästa

/ 169

pgmcc

,

november

27
reading_fox 2021 more reads

91 olästa

/ 91

reading_fox

,

november

27
✬ Get yer red hot bargains here! ✬ Part 6

120 olästa

/ 120

clamairy

,

november

26
The Return of the Tane (2021 Reading List)

129 olästa

/ 129

MrsLee

,

november

26
Reading in 2021 - Jill's Relief Effort & Literary Circle

66 olästa

/ 66

Sakerfalcon

,

november

22
NorthernStar's Notes for 2021

217 olästa

/ 217

pgmcc

,

november

20
Rune's Adventures in Reading 2021

142 olästa

/ 142

-pilgrim-

,

november

18
Maggie, aka Karen, is baaack! 2020 & 2021 are new years.

78 olästa

/ 78

Sakerfalcon

,

november

17
October - Outstanding or Objectionable

184 olästa

/ 184

-pilgrim-

,

november

9
Bad Joke of the Day 10

159 olästa

/ 159

Novak

,

november

7
A pilgrim marches into March (2021)

167 olästa

/ 167

-pilgrim-

,

november

2
Mary (Storeetllr) Reads-2021 Pt. 2

229 olästa

/ 229

Storeetllr

,

november

1
Beautiful Book Covers

217 olästa

/ 217

Sakerfalcon

,

november

1
👣 Walking to Mordor 👣

200 olästa

/ 200

-pilgrim-

,

november

1
It's my Thingaversary . . . and I've forgotten the rules

245 olästa

/ 245

NorthernStar

,

oktober

30
Marissa's Reading Adventures in 2021

191 olästa

/ 191

Meredy

,

oktober

30
Majel-Susan sleeps late in 2021

43 olästa

/ 43

Majel-Susan

,

oktober

30
Halloween Hunt

19 olästa

/ 19

MrsLee

,

oktober

27
Meredy's 2021 Reading Journal

223 olästa

/ 223

Darth-Heather

,

oktober

27
Official Welcome to the Dragon Thread VI

36 olästa

/ 36

Karlstar

,

oktober

24
theexiledlibrarian changes handles

27 olästa

/ 27

clamairy

,

oktober

20
Pilgrim turns her back on 2021

37 olästa

/ 37

-pilgrim-

,

oktober

19
Keep MrGrooism in your thoughts, please.

30 olästa

/ 30

clamairy

,

oktober

13
WHL's BMW Tour

36 olästa

/ 36

WholeHouseLibrary

,

oktober

12
short stories by NK Jemison

1 oläst

/ 1

cindydavid4

,

oktober

7
2021 Reading efforts of PGMCC - Fifth instalment.

187 olästa

/ 187

pgmcc

,

oktober

1
Countdown to our 4000th member! Or, Déjà Vu... all over again.

197 olästa

/ 197

pgmcc

,

september

28
The Read goes ever on and on...MrsLee 2021 chapter 2

205 olästa

/ 205

MrsLee

,

september

22
September splendour and sadness

77 olästa

/ 77

Sakerfalcon

,

september

21
Narilka reads and keeps 2021 colorful part 2

82 olästa

/ 82

Narilka

,

september

15
Reading, Exploring and Piffling with Hugh in 2021, part 3

226 olästa

/ 226

hfglen

,

september

13
2021 Reading efforts of PGMCC - Fourth instalment.

201 olästa

/ 201

pgmcc

,

september

12
Fieldnotes: On Staying Clam & Reading More in 2021 ☽ Part II ☾

295 olästa

/ 295

clamairy

,

september

2
Silversi finally starts a topic - after 3 years.

32 olästa

/ 32

Sakerfalcon

,

september

2
August 2021- awful and awesome

72 olästa

/ 72

clamairy

,

september

1
YouKneeK's 2021 SF&F Overdose Part 4

72 olästa

/ 72

YouKneeK

,

augusti

20
Quick! What did you last have to eat! Part II

26 olästa

/ 26

Meredy

,

augusti

14
Ever encounter a defective Kindle book?

10 olästa

/ 10

NorthernStar

,

augusti

10
July, Julips, Jollies and Jaberwoks 2021

101 olästa

/ 101

-pilgrim-

,

augusti

8
His Dark Materials

10 olästa

/ 10

clamairy

,

augusti

3
Genres

6 olästa

/ 6

Marissa_Doyle

,

juli

24
YouKneeK's 2021 SF&F Overdose Part 3

259 olästa

/ 259

YouKneeK

,

juli

15
Bookmarque's Padded Cell 2021 - Just One of My Turns (part 1)

264 olästa

/ 264

Bookmarque

,

juli

14
Nothing to read here...

4 olästa

/ 4

clamairy

,

juli

13
Karlstar reads more in 2021 Part the Second

207 olästa

/ 207

Karlstar

,

juli

12
June is bustin' out all over

100 olästa

/ 100

Sakerfalcon

,

juli

6
Pilgrim faces 2021

192 olästa

/ 192

-pilgrim-

,

juli

5
fuzzi has 2020 Hindsight in 2021!

290 olästa

/ 290

fuzzi

,

juli

2
Ursula Le Guin's Hainish Cycle

10 olästa

/ 10

Karlstar

,

juni

29
Busifer's 2021 reading room

122 olästa

/ 122

Busifer

,

juni

27
Bad Joke of the Day 11

204 olästa

/ 204

hlfuller

,

juni

23
New book news 2021

8 olästa

/ 8

NorthernStar

,

juni

17
Moe Reading with the 'Stooge

61 olästa

/ 61

MrsLee

,

juni

9
Quick! What did you last have to eat!

746 olästa

/ 746

haydninvienna

,

juni

9
Book Discussion: The Silmarillion

119 olästa

/ 119

Karlstar

,

juni

8
2021 Reading efforts of PGMCC - Third instalment.

175 olästa

/ 175

pgmcc

,

juni

8
Peace2 is still Mountaineering Mt TBR with Peace2 in 2021

53 olästa

/ 53

Peace2

,

juni

6
MAY-be MAY-gnificent, MAY-be MAY-hem

122 olästa

/ 122

Maddz

,

juni

3
Mary (Storeetllr) Needs Murderbot Like Murderbot Needs Sanctuary Moon-2021 Q1

215 olästa

/ 215

Storeetllr

,

juni

2
Reading, Exploring and Piffling with Hugh in 2021, part 2

220 olästa

/ 220

hfglen

,

maj

30
New Admins

12 olästa

/ 12

Peace2

,

maj

18
New words encountered in your reading

270 olästa

/ 270

-pilgrim-

,

maj

16
Group Read: Paladin of Souls (Apr 2021)

30 olästa

/ 30

clamairy

,

maj

16
Narilka reads and keeps 2021 colorful

163 olästa

/ 163

Narilka

,

maj

16
✬ Get yer red hot bargains here! ✬ Part 5

327 olästa

/ 327

clamairy

,

maj

7
Pilgrim sidles into Spring 2020

257 olästa

/ 257

Busifer

,

maj

5
This is a feature balloon