Hogwarts Express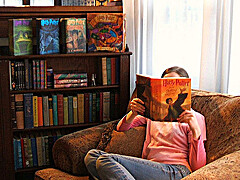 Welcome to the Hogwarts Express, where Harry Potter fans of all ages gather to discuss the series and, well, just about anything else!

If you're joining us for the first time, welcome! We love hearing from new members, and love it even more when they quickly become old friends! Feeling a little overwhelmed? This information thread can help untangle our chaos of nicknames and abbreviations. You're welcome to jump in anywhere, but here are a few special features:

Rereading Harry Potter? So are we! Here are links to the ongoing Group Discussion threads. We also have a few other book discussion threads you might want to check out.

Thank you for coming aboard the Hogwarts Express! We appreciate everyone's help in keeping this a friendly and welcoming environment.
Diskussion

Diskussion

Meddelanden

Senaste inlägget

Fastnålat

— Wizard Challenge IV
506

olästa

/ 506

suge

,

april

2007
Friends and strangers, please check in!
208

olästa

/ 208

foggidawn

,

november

4
RIP - Wands up
5

olästa

/ 5

varielle

,

september

28
Robbie Coltrane
1

oläst

/ 1

Elfsilbler

,

oktober

2022
Octave! Song Speakers Eight
197

olästa

/ 197

Brazen

,

augusti

2022
Peeves not in movies but is books
3

olästa

/ 3

bales1997

,

augusti

2022
Secret Cinematic Speakers Still Speaking
49

olästa

/ 49

Brazen

,

augusti

2022
Question
2

olästa

/ 2

foggidawn

,

augusti

2022
Peeves
1

oläst

/ 1

bales1997

,

juni

2022
Hey, old friends! Wanna catch up? Join the Zoom Sesh!
11

olästa

/ 11

suge

,

oktober

2021
Links to series discussion threads here!
32

olästa

/ 32

foggidawn

,

augusti

2021
Secret Cinematic Speakers Speak Softly
211

olästa

/ 211

jugglingpaynes

,

november

2020
Hello Everyone! Please look at this
7

olästa

/ 7

suge

,

oktober

2020
Deathly Hallows discussion Chapters 33-Epilogue - FINAL
71

olästa

/ 71

jugglingpaynes

,

augusti

2020
Flourish & Blotts
2

olästa

/ 2

foggidawn

,

november

2019
What is that mysterious ticking noise?
6

olästa

/ 6

kgriffith

,

november

2019
Word Association #6
19

olästa

/ 19

varielle

,

september

2019
Word Association #5
386

olästa

/ 386

varielle

,

juli

2019
The Crimes of Grindelwald - movie
6

olästa

/ 6

varielle

,

juli

2019
Harry Potter No Hanging Hangman #32?
262

olästa

/ 262

varielle

,

juli

2019
Wizard Challenge XIV: The Challenge Lives Again!
119

olästa

/ 119

varielle

,

juli

2019
Harry Potter and the Cursed Child: The Spoilery Spoiler Thread
7

olästa

/ 7

foggidawn

,

april

2019
Any HP books for sale?
4

olästa

/ 4

karenb

,

mars

2019
Start Here: The information thread
181

olästa

/ 181

corwain

,

februari

2019
What house are you in? (am I even allowed to make this? :P)
166

olästa

/ 166

jojoasdwer123

,

januari

2019
I was there at the beginning...
3

olästa

/ 3

LesMiserables

,

december

2018
The person below me- game
80

olästa

/ 80

foggidawn

,

september

2018
Harry Potter: Hogwarts Mystery
6

olästa

/ 6

foggidawn

,

september

2018
New Rowling children's book on the way!
2

olästa

/ 2

jugglingpaynes

,

juni

2018
Word Association #4
376

olästa

/ 376

varielle

,

juni

2018
another magical portal?
4

olästa

/ 4

foggidawn

,

juni

2018
A Wrinkle in Time
4

olästa

/ 4

theretiredlibrarian

,

april

2018
Have you visited the The Wizarding World of Harry Potter™ in Orlando? Did you enjoy the experience?
24

olästa

/ 24

theretiredlibrarian

,

april

2018
Wizard Challenge XVI: Sweet Sixteen!
240

olästa

/ 240

selena777

,

november

2017
Rumours thread (IX, or so they say)
30

olästa

/ 30

foggidawn

,

november

2017
Secret Song Speakers Summer Stage!
127

olästa

/ 127

theretiredlibrarian

,

september

2017
Nineteen Years Later
6

olästa

/ 6

foggidawn

,

september

2017
Harry Potter is 20
6

olästa

/ 6

pollysmith

,

september

2017
Harry Potter No-Hanging Hangman 29
293

olästa

/ 293

BuffaloPhil

,

augusti

2017
Catching the Train at Kings Cross Station :'(
2

olästa

/ 2

amysisson

,

augusti

2017
How about now? What are you reading now?
160

olästa

/ 160

theretiredlibrarian

,

juli

2017
What are you watching and listening to now?
164

olästa

/ 164

theretiredlibrarian

,

maj

2017
Pottermore Patronuses
17

olästa

/ 17

justjukka

,

mars

2017
Half Blood Prince Discussion; chapters 11-15
47

olästa

/ 47

VMG

,

februari

2017
The Daily Prophet Reissue: 2016 Good News/Bad News
63

olästa

/ 63

justjukka

,

januari

2017
[The Lightning Thief] (with spoilers)
31

olästa

/ 31

KRomana

,

januari

2017
Word Association #43
424

olästa

/ 424

varielle

,

januari

2017
Fantastic beasts and where to find them movie!
22

olästa

/ 22

compskibook

,

december

2016
Care of Magical Creatures
21

olästa

/ 21

justjukka

,

oktober

2016
HP re-read on audio
6

olästa

/ 6

compskibook

,

oktober

2016
New Short Stories
2

olästa

/ 2

grkmwk

,

augusti

2016
Harry Potter No-Hanging Hangman 28
298

olästa

/ 298

foggidawn

,

augusti

2016
HP and the Cursed Child: Is it worth the read?
14

olästa

/ 14

jugglingpaynes

,

augusti

2016
Renald128's country
9

olästa

/ 9

grkmwk

,

juli

2016
Secret Song Speakers Sing it Again
341

olästa

/ 341

jugglingpaynes

,

juli

2016
HP passage for wedding
7

olästa

/ 7

compskibook

,

juni

2016
Help me plan a midnight release party!
7

olästa

/ 7

justjukka

,

maj

2016
Rhetorical Questions
15

olästa

/ 15

compskibook

,

maj

2016
Group Trip to London
12

olästa

/ 12

foggidawn

,

maj

2016
Fantastic Beasts Trailer!
6

olästa

/ 6

foggidawn

,

maj

2016
The Daily Prophet Special Edition: Extended Hogwarts Express Good News/Bad News
82

olästa

/ 82

foggidawn

,

maj

2016
Word Association #43
300

olästa

/ 300

varielle

,

april

2016
How's Your TBR Pile?
14

olästa

/ 14

ms529212

,

april

2016
Word Association #42
333

olästa

/ 333

varielle

,

januari

2016
Alan Rickman Memorial Thread
16

olästa

/ 16

foggidawn

,

januari

2016
audiobooks?
3

olästa

/ 3

06nwingert

,

januari

2016
Secret Cinematic Speakers Say Something
230

olästa

/ 230

jugglingpaynes

,

januari

2016
Christmas wish list
12

olästa

/ 12

grkmwk

,

december

2015
Dr Who crossover last episode?
4

olästa

/ 4

Agnesium

,

december

2015
British Celebrity Husband
8

olästa

/ 8

jugglingpaynes

,

oktober

2015
Youtube videos
9

olästa

/ 9

nonil

,

oktober

2015
Train Derailments: Off the track and down the rabbit hole!
115

olästa

/ 115

jugglingpaynes

,

oktober

2015
Wizard Challenge XVIII: This thread is of age in the Wizarding world!
226

olästa

/ 226

foggidawn

,

september

2015
What are you reading now?
247

olästa

/ 247

foggidawn

,

september

2015
LT Anniversaries
19

olästa

/ 19

LesMiserables

,

juli

2015
Word Association #41
214

olästa

/ 214

varielle

,

juli

2015
Harry Potter No-Hanging Hangman 27
299

olästa

/ 299

varielle

,

juni

2015
Fictional After Life
11

olästa

/ 11

BuffaloPhil

,

april

2015
What got you Reading...
13

olästa

/ 13

rissa

,

april

2015
Harry Potter No-Hanging Hangman 26
340

olästa

/ 340

BuffaloPhil

,

januari

2015
Six Word Book Reviews
1

oläst

/ 1

jugglingpaynes

,

januari

2015
What did you get for Christmas???
2

olästa

/ 2

biblioholic29

,

december

2014
Pottermore, with SPOILERS, VOL 2
104

olästa

/ 104

justjukka

,

december

2014
Hot English Guy Tournament!
65

olästa

/ 65

biblioholic29

,

november

2014
The Casual Vacancy group discussion thread -- now, with SPOILERS!
6

olästa

/ 6

phollenberg

,

oktober

2014
Ninjas
13

olästa

/ 13

grkmwk

,

oktober

2014
Word Association #40
363

olästa

/ 363

varielle

,

oktober

2014
Neighborhood Book Exchange/Library
5

olästa

/ 5

grkmwk

,

oktober

2014
Made Me Laugh
51

olästa

/ 51

jugglingpaynes

,

oktober

2014
Harry Potter No-Hanging Hangman 25
282

olästa

/ 282

foggidawn

,

september

2014
House of Hades
1

oläst

/ 1

demi_wizzard

,

september

2014
Fight between demigods and potterheads.
2

olästa

/ 2

Dena443

,

september

2014
It made me smile...
98

olästa

/ 98

EvaVick

,

september

2014
Happy Birthday!
8

olästa

/ 8

foggidawn

,

augusti

2014
Harry Potter No-Hanging Hangman 24
298

olästa

/ 298

foggidawn

,

juli

2014
New Story on Pottermore
10

olästa

/ 10

grkmwk

,

juli

2014
Quote. Secret Cinematic Speakers. Unquote.
241

olästa

/ 241

jugglingpaynes

,

juni

2014
Request to Harry Potter fans for help - Harry Potter 30 seconds cards
7

olästa

/ 7

Lauren_Kirk-Cohen

,

maj

2014
The Daily Prophet Special Edition: More Hogwarts Express Good News/Bad News
231

olästa

/ 231

jugglingpaynes

,

maj

2014
A moment of silence...
6

olästa

/ 6

foggidawn

,

maj

2014
This is a feature balloon