Author Theme Reads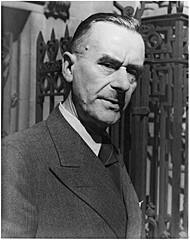 Den här gruppen är officiellt vilande. Sånt händer.
Läs här om hur du gör för att återuppliva gruppen eller skapa en ny om samma ämne.
This group is currently defunct as there are no longer any active members. If anyone would be interested in taking over administration of this group, please send me a private message.

This group is for readers who wish to focus on one author at a time, in an effort to understand the development of an author's writings, literary technique, and general viewpoints on life.

2014:Thomas Mann
2013:Emile Zola, Honore de Balzac, Guy de Maupassant, Marguerite Duras, Simone de Beauvoir
2012: Shusaku Endo, Natsume Soseki, Kobo Abe, Ryu Murakami, Yuko Mishima
2011: Mario Vargas Llosa, Jose Saramago, JMG Le Clezio, Ngugi wa Thiong'o
2010: Stefan Zweig, Joseph Roth, Junichiro Tanizaki, Cormac McCarthy
2009: Fyodor Dostoevsky, Virginia Woolf, JD Salinger, Kazuo Ishiguro

Not interested in our current author choice? Check out our daughter group, Monthly Author Reads.
Diskussion

Diskussion

Meddelanden

Senaste inlägget

Virginia Woolf: Jacob's Room
14

olästa

/ 14

Nickelini

,

juni

2019
Netochka Nezvanova
11

olästa

/ 11

-pilgrim-

,

mars

2019
Germinal by Zola
21

olästa

/ 21

boleslasditboby

,

september

2018
The Box Man by Kobo Abe
9

olästa

/ 9

lilisin

,

maj

2015
Mann: Disorder and Early Sorrow (SPOILERS POSSIBLE)
5

olästa

/ 5

aulsmith

,

december

2014
Announcement
6

olästa

/ 6

lilisin

,

november

2014
2013 in France: What are you reading?
69

olästa

/ 69

lilisin

,

november

2014
Mann: Confessions of Felix Krull, Confidence Man
1

oläst

/ 1

rebeccanyc

,

november

2014
Zola: Money
1

oläst

/ 1

rebeccanyc

,

maj

2014
Mann: Death in Venice
8

olästa

/ 8

aulsmith

,

maj

2014
Mann: Stories and Novellas
3

olästa

/ 3

rebeccanyc

,

maj

2014
Mann: Tonio Kroger SPOILERS THREAD
4

olästa

/ 4

rebeccanyc

,

maj

2014
Emile Zola - Resources and General Discussion
23

olästa

/ 23

slickdpdx

,

mars

2014
Introducing Thomas Mann
40

olästa

/ 40

jcbrunner

,

februari

2014
The Beast Within by Zola
1

oläst

/ 1

rebeccanyc

,

februari

2014
Duras: The Sea Wall
3

olästa

/ 3

chlorine

,

januari

2014
Looking ahead to Salinger
7

olästa

/ 7

edwinbcn

,

december

2013
Salinger: For Esmé with Love and Squalor or Nine Stories
3

olästa

/ 3

edwinbcn

,

december

2013
Dostoevsky: Winter Notes on Summer Impressions
2

olästa

/ 2

edwinbcn

,

december

2013
Salinger: Catcher in the Rye
21

olästa

/ 21

edwinbcn

,

december

2013
Dostoevsky: Notes from Underground
11

olästa

/ 11

edwinbcn

,

december

2013
Preparing for 2014
37

olästa

/ 37

rebeccanyc

,

december

2013
Simone de Beauvoir General Thread
9

olästa

/ 9

edwinbcn

,

december

2013
Duras: Plays and Films
6

olästa

/ 6

edwinbcn

,

december

2013
Zola: The Masterpiece
1

oläst

/ 1

rebeccanyc

,

november

2013
de Beauvoir : The Second Sex
15

olästa

/ 15

chlorine

,

oktober

2013
French authors general thread
37

olästa

/ 37

rebeccanyc

,

oktober

2013
Duras: L'amour
1

oläst

/ 1

rebeccanyc

,

september

2013
Maupassant: Short Story Collections
4

olästa

/ 4

rebeccanyc

,

september

2013
The Ladies' Paradise by Zola
9

olästa

/ 9

rebeccanyc

,

augusti

2013
Marguerite Duras: General Thread
8

olästa

/ 8

chlorine

,

augusti

2013
The Kill by Zola
15

olästa

/ 15

chlorine

,

augusti

2013
Duras: The Lover
2

olästa

/ 2

Cecilturtle

,

augusti

2013
Duras: The Sailor from Gibraltar
1

oläst

/ 1

StevenTX

,

augusti

2013
The Belly of Paris by Zola
13

olästa

/ 13

slickdpdx

,

juli

2013
Duras: The North China Lover
3

olästa

/ 3

lilisin

,

juli

2013
L'Assommoir by Zola
8

olästa

/ 8

jfetting

,

juli

2013
Preparing for 2013
72

olästa

/ 72

rebeccanyc

,

juni

2013
Zweig: Zweig's shorter works.
34

olästa

/ 34

jfetting

,

juni

2013
Guy de Maupassant: General Thread
4

olästa

/ 4

StevenTX

,

maj

2013
The Conquest of Plassans by Zola
4

olästa

/ 4

rebeccanyc

,

maj

2013
Secret Rendezvous by Kobo Abe
4

olästa

/ 4

rebeccanyc

,

maj

2013
The Joy of Life by Emile Zola
2

olästa

/ 2

slickdpdx

,

maj

2013
Nana by Zola
4

olästa

/ 4

BALE

,

maj

2013
Maupassant: Alien Hearts
1

oläst

/ 1

rebeccanyc

,

maj

2013
Abbe Mouret's Sin by Zola
2

olästa

/ 2

rebeccanyc

,

april

2013
Pot Luck by Zola
5

olästa

/ 5

StevenTX

,

april

2013
Maupassant - Une Vie (A Life)
1

oläst

/ 1

StevenTX

,

mars

2013
Dostoevsky: Crime and Punishment
18

olästa

/ 18

Merelyplayers

,

mars

2013
Balzac: Père Goriot
6

olästa

/ 6

SassyLassy

,

mars

2013
Balzac: Eugénie Grandet
1

oläst

/ 1

StevenTX

,

mars

2013
Balzac: Splendeurs et misères des courtisanes (A Harlot High and Low)
2

olästa

/ 2

rebeccanyc

,

mars

2013
Balzac: Lost Illusions
1

oläst

/ 1

rebeccanyc

,

mars

2013
Toilers of the Sea Group Read
36

olästa

/ 36

edwinbcn

,

februari

2013
Mishima : Forbidden Colours
3

olästa

/ 3

Joe.Tranter

,

januari

2013
Honoré de Balzac - Resources and General Discussion
18

olästa

/ 18

BALE

,

januari

2013
1Q84 Group Read
52

olästa

/ 52

lilisin

,

januari

2013
His Excellency Eugene Rougon by Zola
6

olästa

/ 6

lriley

,

januari

2013
The Fortune of the Rougons by Zola
5

olästa

/ 5

rebeccanyc

,

januari

2013
Mishima : The Samurai ethic and modern Japan
6

olästa

/ 6

lilisin

,

januari

2013
The Dream by Zola
1

oläst

/ 1

rebeccanyc

,

januari

2013
Scandal by Shusaku Endo
8

olästa

/ 8

JDHomrighausen

,

december

2012
2012 in Japan: What are you reading now?
89

olästa

/ 89

rebeccanyc

,

december

2012
The Final Martyrs discussion.....
4

olästa

/ 4

hemlokgang

,

december

2012
Deep River by Shusaku Endo
11

olästa

/ 11

JDHomrighausen

,

december

2012
When I Whistle by Shusaku Endo.
5

olästa

/ 5

rebeccanyc

,

december

2012
Five by Endo by Shusaku Endo
1

oläst

/ 1

JDHomrighausen

,

december

2012
Monthly Author Reads Group Back Open
2

olästa

/ 2

.Monkey.

,

november

2012
Idea for Author Theme Reads
3

olästa

/ 3

BALE

,

november

2012
Japanese authors general thread
63

olästa

/ 63

edwinbcn

,

november

2012
Mishima : The Sailor who Fell from Grace with the Sea
2

olästa

/ 2

edwinbcn

,

oktober

2012
The Temple of the Golden Pavilion by Yukio Mishima
1

oläst

/ 1

rebeccanyc

,

oktober

2012
Preparing for 2012!
76

olästa

/ 76

kidzdoc

,

oktober

2012
Almost Transparent Blue by Ryū Murakami
3

olästa

/ 3

lilisin

,

september

2012
Japan Read 2012: Translators and Presses
19

olästa

/ 19

lilisin

,

september

2012
The Samurai by Shusaku Endo
12

olästa

/ 12

hemlokgang

,

september

2012
Popular Hits of the Showa Era by Ryū Murakami
3

olästa

/ 3

cameling

,

september

2012
A Life of Jesus by Shusaku Endo
1

oläst

/ 1

JDHomrighausen

,

augusti

2012
In the Miso Soup by Ryū Murakami
1

oläst

/ 1

StevenTX

,

augusti

2012
Piercing by Ryū Murakami
1

oläst

/ 1

StevenTX

,

augusti

2012
[Silence] by [[Shusaku Endo]]
20

olästa

/ 20

rebeccanyc

,

augusti

2012
Sixty-Nine by Ryū Murakami
2

olästa

/ 2

rebeccanyc

,

juli

2012
Ryu Murakami essay
10

olästa

/ 10

rebeccanyc

,

juli

2012
Coin Locker Babies by Ryu Murakami
2

olästa

/ 2

lilisin

,

juli

2012
The Woman in the Dunes by Kōbō Abé
10

olästa

/ 10

Rise

,

maj

2012
The Face of Another by Kobo Abe
3

olästa

/ 3

lilisin

,

april

2012
The Sea and Poison by Shusaku Endo
7

olästa

/ 7

lilisin

,

mars

2012
Sanshirō by Natsume Sōseki
1

oläst

/ 1

rebeccanyc

,

mars

2012
Aunt Julia and the Scriptwriter
5

olästa

/ 5

hemlokgang

,

februari

2012
Kokoro by Natsume Soseki
2

olästa

/ 2

rebeccanyc

,

februari

2012
Botchan by Natsume Soseki
3

olästa

/ 3

kidzdoc

,

januari

2012
Stained Glass Elegies by Shusaku Endo
1

oläst

/ 1

kidzdoc

,

januari

2012
Volcano by Shusaku Endo
1

oläst

/ 1

kidzdoc

,

januari

2012
Petals of Blood by Ngũgĩ wa Thiong'o
9

olästa

/ 9

EBT1002

,

januari

2012
Junichiro Tanizaki's works
9

olästa

/ 9

lilisin

,

januari

2012
Matigari by Ngũgĩ wa Thiong'o
2

olästa

/ 2

rebeccanyc

,

december

2011
Introducing Ngũgĩ wa Thiong'o
12

olästa

/ 12

laytonwoman3rd

,

december

2011
Weep Not, Child by Ngũgĩ wa Thiong'o
4

olästa

/ 4

rebeccanyc

,

december

2011
The River Between by Ngũgĩ wa Thiong'o
6

olästa

/ 6

jfetting

,

december

2011
Devil on the Cross by Ngũgĩ wa Thiong'o
1

oläst

/ 1

rebeccanyc

,

november

2011
This is a feature balloon