Bookstore Tourism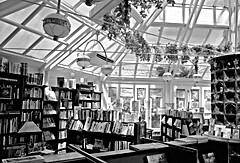 Bookstore tourism is about travelling to visit bookstores—whether you do so on an organised tour or just on your own. Do you go on road trips to visit bookstores? Do you collect lists of the most beautiful bookstores? Do you collect booktowns?

We would like to know about bookstores that are worth travelling some distance to visit, whether because they are beautiful, or unusually well-stocked, or quirky, or historically interesting, or for any other reason... Tell us about them.

When I visit a shop I try to buy at least 1 book by an author from the country. I'm an English monoglot so this could pose a problem, but so far I've got by with English translations even in Portugal and Romania. Mind you, in Munich once I bought a German-language copy of Kaiserschmarrndrama by Rita Falk, solely because I like the title--Kaiserschmarrn is one of the world's great desserts.

Booktowns welcome too.
Diskussion

Diskussion

Meddelanden

Senaste inlägget

Bookstores & Libraries where you can spend the night

11 olästa

/ 11

tallpaul

,

september

2
Travel plans

49 olästa

/ 49

haydninvienna

,

augusti

27
Libraries worth a visit

9 olästa

/ 9

anglemark

,

juli

23
Beautiful libraries

12 olästa

/ 12

hfglen

,

juli

5
Beautiful (or otherwise extraordinary) book shops

15 olästa

/ 15

haydninvienna

,

juni

2020
Bookstore Tourism in the time of COVID-19

4 olästa

/ 4

tallpaul

,

april

2020
Under new management

10 olästa

/ 10

haydninvienna

,

mars

2020
Fictional, but would be a great visit

4 olästa

/ 4

haydninvienna

,

februari

2020
Stray pictures

9 olästa

/ 9

hfglen

,

september

2019
The King is dead--long live the King

3 olästa

/ 3

haydninvienna

,

september

2019
Welcome new members

10 olästa

/ 10

hfglen

,

september

2019
Bookstore tourism

13 olästa

/ 13

haydninvienna

,

maj

2019
Run your own bookstore in Scotland!

1 oläst

/ 1

Crypto-Willobie

,

juni

2018
Name that short story

2 olästa

/ 2

Taphophile13

,

juni

2018
Planning a Bookstore Road Trip?

3 olästa

/ 3

LamSon

,

februari

2009
This is a feature balloon