Welcome to LibraryThing!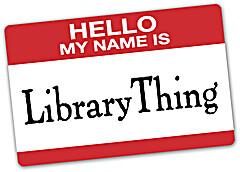 A group for new members to introduce themselves, ask questions and learn about everything the LibraryThing community and site have to offer.

LibraryThing is a rich site, with a number of different communities and projects going on. It can also be a complex site—powerful but sometimes daunting to newcomers. This group is a friendly place for new members, and the experienced members who can help them make the most of it. Most questions and introductions are answered within minutes.
Group norms:


There are no wrong questions or unwelcome members.


LibraryThing values conversation, not advertising or meanness. Rules against spam, personal attacks and so forth still apply (see here).


Other resources:



HelpThing. Member-written help, available on every page



Standing Groups has a number of popular site groups, for bugs, feature requests, general chatter and so forth.


Photo by Flickr user Lianneah
Diskussion

Diskussion

Meddelanden

Senaste inlägget

Early Reviewer Can't find book to add and review
9

olästa

/ 9

lilithcat

,

Igår

9:45pm
Problems with csv upload
1

oläst

/ 1

CHS_YWAM

,

fredag

5:13pm
Is there a way to pull a list of books that have copies?
7

olästa

/ 7

MarthaJeanne

,

november

25
Feel good to use LibraryThing
3

olästa

/ 3

Petroglyph

,

november

25
Imported from Goodreads but some issues
3

olästa

/ 3

kitsune_reader

,

november

23
Review not appearing in reviews
15

olästa

/ 15

kjuliff

,

november

21
scanning without internet
1

oläst

/ 1

ECAMLIbraries

,

november

14
How adding items to a book ? (Com es pengen exemplars ?)
5

olästa

/ 5

BibliotecaJosepCosta

,

november

13
Book Cover Images
27

olästa

/ 27

William_I_Zard

,

november

13
book covers
2

olästa

/ 2

lilithcat

,

november

12
Hello. New member in here.
9

olästa

/ 9

lilithcat

,

november

11
Hello...
5

olästa

/ 5

MarthaJeanne

,

november

11
Single line -cr- spacing for profile "About you"
3

olästa

/ 3

kjuliff

,

november

7
Hello All!
3

olästa

/ 3

MarthaJeanne

,

november

7
author page correction
11

olästa

/ 11

Crypto-Willobie

,

november

6
installing a check out system
5

olästa

/ 5

kristilabrie

,

november

6
Linking to photo in gallery
4

olästa

/ 4

kjuliff

,

november

4
Adding ebooks
32

olästa

/ 32

Marissa_Doyle

,

november

2
Help adding a book
2

olästa

/ 2

MarthaJeanne

,

oktober

30
ALA's Booklist
3

olästa

/ 3

2wonderY

,

oktober

29
Edition statements
4

olästa

/ 4

SandraArdnas

,

oktober

28
Barcode Scanner Help
23

olästa

/ 23

jjmcgaffey

,

oktober

27
reviews
4

olästa

/ 4

dunpag

,

oktober

25
Multiple editions problem
3

olästa

/ 3

kjuliff

,

oktober

22
I'm starting a library at my church
4

olästa

/ 4

2wonderY

,

oktober

10
Other library thing collections
3

olästa

/ 3

kristilabrie

,

oktober

10
Any idea how to get my Kindle titles
3

olästa

/ 3

elorin

,

oktober

8
I am new here.
23

olästa

/ 23

Popglossup

,

oktober

7
a book that keeps appearing as a caldecott
4

olästa

/ 4

EGBERTINA

,

oktober

4
Book Title Different From Work Information
5

olästa

/ 5

lilithcat

,

september

26
how to delete collections of books
17

olästa

/ 17

elorin

,

september

20
Link to book cover
9

olästa

/ 9

XanderHamill

,

september

15
How to unlink to book cover
4

olästa

/ 4

OregonGS.org

,

september

13
padlock on awards section of common knowledge
3

olästa

/ 3

allthegoodbooks

,

september

13
Looking up/importing Kindle library
2

olästa

/ 2

AnnieMod

,

september

10
Getting Reviews for my Book on Amazon
7

olästa

/ 7

NancyJD

,

september

7
Export book list as Excel file
2

olästa

/ 2

MarthaJeanne

,

september

7
Confused: What's the best way to find people who both have similar books to me and have given similar ratings as me?
6

olästa

/ 6

MrAndrew

,

augusti

25
What is the best way to add friends?
6

olästa

/ 6

MarthaJeanne

,

augusti

25
Two versions, one novel.
4

olästa

/ 4

kjuliff

,

augusti

24
How to
6

olästa

/ 6

moonflowerdragon

,

augusti

20
How do I see reviews?
4

olästa

/ 4

MarthaJeanne

,

augusti

20
Find a book
3

olästa

/ 3

moonflowerdragon

,

augusti

20
Group read
2

olästa

/ 2

norabelle414

,

augusti

12
Getting started - finding friends, adding group members
8

olästa

/ 8

MorrisOneil

,

augusti

11
Make a private book (this is a beta feature)
10

olästa

/ 10

2wonderY

,

augusti

7
language not available
2

olästa

/ 2

MarthaJeanne

,

juli

24
can't my catalogue back into "preferred/ normal/usual order
6

olästa

/ 6

EGBERTINA

,

juli

23
Just saying hello
2

olästa

/ 2

reconditereader

,

juli

22
Linking from Website to a particular LibraryThing library
7

olästa

/ 7

Bob.J

,

juli

20
Question about Add Book defaults
1

oläst

/ 1

freixas

,

juli

20
Keep track of library value
9

olästa

/ 9

MrAndrew

,

juli

1
Why can't I find [SPARKLE] by [[Arin Kambitsis]] to add to my books?
8

olästa

/ 8

2wonderY

,

juni

24
Overwhelmed
10

olästa

/ 10

MikkilLib

,

juni

23
Audiobooks showing "by" the narrator instead of the author
7

olästa

/ 7

MarthaJeanne

,

juni

20
Search AI
7

olästa

/ 7

Nevov

,

juni

19
Too many books ??
21

olästa

/ 21

MikkilLib

,

juni

16
How to find a book I am looking for
3

olästa

/ 3

gilroy

,

juni

11
IPhone app - sort library by LCC in app?
2

olästa

/ 2

kristilabrie

,

juni

5
Language problem
5

olästa

/ 5

TerryFrost2390

,

maj

28
New User Questions
8

olästa

/ 8

bnielsen

,

maj

24
FNG here
3

olästa

/ 3

P-Rae

,

maj

21
Cover images
5

olästa

/ 5

ShayWalker

,

maj

20
Going Crazy
3

olästa

/ 3

ShayWalker

,

maj

20
Two books combined into one in the database?
1

oläst

/ 1

xinjeisan

,

maj

11
Where do I ask about this?
3

olästa

/ 3

Cathery

,

maj

7
Add Books directly to a Collection?
5

olästa

/ 5

MarthaJeanne

,

maj

2
I cannot edit my profile - changes do not stick (I could in the past)
3

olästa

/ 3

gilroy

,

maj

1
I love this site
7

olästa

/ 7

MarthaJeanne

,

april

25
is it possible?
1

oläst

/ 1

EGBERTINA

,

april

21
Download link location
8

olästa

/ 8

AbigailAdams26

,

april

10
New user question re "Read but unowned"
6

olästa

/ 6

eg4209

,

april

8
Default covers are missing their titles
10

olästa

/ 10

freixas

,

april

2
How to get link to one of my topics to go to the top of the topic
13

olästa

/ 13

jjwilson61

,

april

1
Reading/having a book in multiples languages/editions
2

olästa

/ 2

MarthaJeanne

,

april

1
Alt text for user-uploaded images
2

olästa

/ 2

aspirit

,

mars

30
front and back cover images
2

olästa

/ 2

AnnieMod

,

mars

26
Happy to Be Here!
5

olästa

/ 5

MarthaJeanne

,

mars

23
How can I Populate a new collection en-masse
3

olästa

/ 3

Taliesien

,

mars

21
Admin users capabilities
2

olästa

/ 2

kristilabrie

,

mars

20
Touchstones and alt text
5

olästa

/ 5

MarthaJeanne

,

mars

20
Hello New One Here
4

olästa

/ 4

SandraArdnas

,

mars

19
Unjoining a group.
6

olästa

/ 6

kjuliff

,

mars

17
newbie at 65 years old.
3

olästa

/ 3

nde.books

,

mars

11
Error on Books to Borrow
8

olästa

/ 8

kjuliff

,

mars

10
work relationship
3

olästa

/ 3

amanda4242

,

mars

10
deleting folders
3

olästa

/ 3

EGBERTINA

,

februari

28
Finding libraries when adding books
6

olästa

/ 6

kjuliff

,

februari

25
Numero massimo libri
2

olästa

/ 2

thorold

,

februari

24
Starred items
5

olästa

/ 5

2wonderY

,

februari

23
Blocking and "books you share"
5

olästa

/ 5

kjuliff

,

februari

19
wondering about algorithm (and maybe general knowledge)
6

olästa

/ 6

thorold

,

februari

19
How to renumber divisions when multiple auuthors
18

olästa

/ 18

kjuliff

,

februari

18
I need to leave LT though I've enjoyed most of my time
11

olästa

/ 11

kjuliff

,

februari

17
Sharing My Library?
2

olästa

/ 2

lilithcat

,

februari

16
complaint/ observation
1

oläst

/ 1

EGBERTINA

,

februari

13
I am new here.
9

olästa

/ 9

lilithcat

,

februari

12
Is there anyway of tagging a member - eg if you are referencing their library but not a particular post.
2

olästa

/ 2

AnnieMod

,

februari

11
How to bring up advanced editor
7

olästa

/ 7

AnnieMod

,

februari

11
Touchstones for title only when title not unique
20

olästa

/ 20

kjuliff

,

februari

11
This is a feature balloon