National Novel Writing Month (Nanowrimo)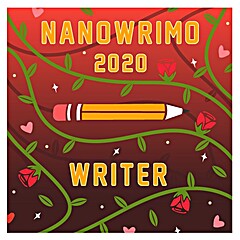 Have you ever wanted to write a novel? Join with thousands on November 1st and the goal is to write a 50,000 word novel by midnight, November 30. Up for the challenge?

You can also go to Camp NaNo, where you can finish the novel that's been burning a hole in your desk. Or start a new project. You set the goal, And can build a community of writers to cheer you on.
Diskussion

Diskussion

Meddelanden

Senaste inlägget

Fastnålat

— NaNoWriMo 2023 - The Mad Scramble to Write!
8

olästa

/ 8

gilroy

,

november

29

Fastnålat

— Helpful books on writing
9

olästa

/ 9

genesisdiem

,

november

2021

Fastnålat

— Welcome! Home for NaNoWriMo, Camp NaNo on Librarything!
6

olästa

/ 6

gilroy

,

maj

2022
Looking for Good Writing Prompts
3

olästa

/ 3

gilroy

,

oktober

31
NaNoWriMo 2023 - Prepare to Conquer the Wordy Mountain!
5

olästa

/ 5

gilroy

,

oktober

31
Camp NaNo July 2023
4

olästa

/ 4

gilroy

,

juni

16
Camp NaNo - April 2023
2

olästa

/ 2

gilroy

,

april

15
I'm officially on track for Camp Nanowrimo, and happy because it was hard to get here.
2

olästa

/ 2

reconditereader

,

april

14
Camp NaNo Prep - March 2023
1

oläst

/ 1

gilroy

,

mars

9
NaN oWRiMo2022 - Week 1
2

olästa

/ 2

Storeetllr

,

november

2022
Are you a Nanowrimo newbie or have you participated before?
85

olästa

/ 85

gilroy

,

november

2022
Camp NaNo Prep April 2022
1

oläst

/ 1

gilroy

,

mars

2022
Writing Approach discussion
3

olästa

/ 3

mnleona

,

februari

2022
NaNoWriMo 2021 - TGIO Lounge
2

olästa

/ 2

mnleona

,

december

2021
NaNoWriMo 2021 - Week 4
1

oläst

/ 1

gilroy

,

november

2021
NaNoWriMo 2021 - Week 2
1

oläst

/ 1

gilroy

,

november

2021
NaNoWriMo 2021 - Week 1
1

oläst

/ 1

gilroy

,

november

2021
NaNoPrepMo - October 2021
6

olästa

/ 6

gilroy

,

oktober

2021
Camp NaNo 2021 -- July
5

olästa

/ 5

gilroy

,

juni

2021
Camp NaNo 2021 -- April
3

olästa

/ 3

gilroy

,

maj

2021
Camp NaNo Prep MArch 2021
2

olästa

/ 2

gilroy

,

mars

2021
NaNoWriMo 2020 - The Final Days
2

olästa

/ 2

gilroy

,

december

2020
NaNoWriMo 2020 - Week 3
2

olästa

/ 2

reconditereader

,

november

2020
NaNoWriMo 2020 - Week 2
1

oläst

/ 1

gilroy

,

november

2020
NaNoWriMo 2020 - Week 1
3

olästa

/ 3

gilroy

,

november

2020
NANOPREPMO - October 2020
8

olästa

/ 8

gilroy

,

oktober

2020
NaNoWriMo 2019 - Week 2
1

oläst

/ 1

gilroy

,

november

2019
NaNoWriMo 2019 - The First Week
3

olästa

/ 3

antqueen

,

november

2019
NaNo 2019
4

olästa

/ 4

Jarandel

,

oktober

2019
NaNo 2018 - Week 3
10

olästa

/ 10

mamzel

,

november

2018
NaNo 2018 - The Final Push!
2

olästa

/ 2

gilroy

,

november

2018
NaNoWriMo 2018 - Week 2
2

olästa

/ 2

reconditereader

,

november

2018
NaNoWriMo 2018 - Week 1 -OMG! HERE WE GO!
12

olästa

/ 12

BekkaJo

,

november

2018
NaNo 2018 - Oh dear...
5

olästa

/ 5

mamzel

,

november

2018
It's that time again! NaNoWriMo Prep 2018
3

olästa

/ 3

BekkaJo

,

oktober

2018
November 2017 - Wrapped in Purple Winner's Lounge
11

olästa

/ 11

reconditereader

,

december

2017
November 2017 - NaNo Week 4
14

olästa

/ 14

Jarandel

,

december

2017
November 2017 - NaNo - The Final Days
2

olästa

/ 2

Jarandel

,

november

2017
November 2017 - NaNo Week 3
5

olästa

/ 5

BekkaJo

,

november

2017
November 2017 - NaNo Week 2
13

olästa

/ 13

mamzel

,

november

2017
November 2017 - Week 1
10

olästa

/ 10

BekkaJo

,

november

2017
NaNoWriMo 2017 - Prepping, planning, preseason!
20

olästa

/ 20

gilroy

,

november

2017
NaNoWriMo 2016 - Post Script
3

olästa

/ 3

ByChallaF

,

december

2016
NaNoWriMo2016 -- Day 1 -- LET'S GO!
2

olästa

/ 2

Jarandel

,

november

2016
NaNoWriMo2016 -- Week 1
1

oläst

/ 1

gilroy

,

november

2016
2016 Planning...
4

olästa

/ 4

gilroy

,

oktober

2016
NaNoWriMo 2015 - Bathed in the Glow of Purple (Winner's Lounge)
10

olästa

/ 10

mrgrooism

,

december

2015
NaNoWriMo 2015 - Week 4 (The final Stretch)
16

olästa

/ 16

gilroy

,

november

2015
NaNoWriMo 2015 - Week 3
12

olästa

/ 12

Storeetllr

,

november

2015
NaNoWriMo 2015 - Week 2
13

olästa

/ 13

mrgrooism

,

november

2015
A MASSIVE THANK YOU TO...
6

olästa

/ 6

mrgrooism

,

november

2015
NaNoWriMo 2015 - Week 1
27

olästa

/ 27

mrgrooism

,

november

2015
NaNoWriMo 2015 - Day 1
12

olästa

/ 12

gilroy

,

november

2015
2015 NaNoWriMo
8

olästa

/ 8

mamzel

,

november

2015
Week 1 2014 - AND We're OFF!
2

olästa

/ 2

majkia

,

november

2014
It's getting to be about that time...
9

olästa

/ 9

Euryale

,

november

2014
So! Camp NaNo, anyone?
2

olästa

/ 2

dkhiggin

,

mars

2014
NaNoWriMo 2013 - Week 3
12

olästa

/ 12

zette

,

november

2013
NaNo 2013 - Week 1
17

olästa

/ 17

majkia

,

november

2013
NaNo 2013 -- Who is in this year?
35

olästa

/ 35

jennybhatt

,

november

2013
Post NaNo plans
4

olästa

/ 4

Heather19

,

februari

2013
NaNo 2012 - Bathed in Purple! (Winner's Lounge)
14

olästa

/ 14

Katrinia17

,

februari

2013
NaNoWriMo 2012
110

olästa

/ 110

mamzel

,

november

2012
The "I Need a Boost" thread
12

olästa

/ 12

BekkaJo

,

november

2012
NaNoWriMo 2012 - Week 3
4

olästa

/ 4

PJGraham

,

november

2012
Mary Beth's (Doggiesdowrite) thread for Nanowrimo 2012...
5

olästa

/ 5

mmignano11

,

november

2012
Richardderus/Mudge the Expendable writes a 2012 comedy/creepy NaNovel!
29

olästa

/ 29

mamzel

,

november

2012
NaNoWriMo 2012 - Week 1
9

olästa

/ 9

maggie1944

,

november

2012
We have a yahoo group?
4

olästa

/ 4

Storeetllr

,

oktober

2012
After-NaNo writing/novel plans?
14

olästa

/ 14

brianjungwi

,

januari

2012
Counting down to 2011
67

olästa

/ 67

Superkay

,

december

2011
2011 Winner's Lounge - Wrapped in Royal Purple
49

olästa

/ 49

Storeetllr

,

december

2011
2011 Week 4 - The final stretch
9

olästa

/ 9

gilroy

,

november

2011
Who's Rebelling this year?
6

olästa

/ 6

kassetra

,

november

2011
2011 Week 3 - Entering the Final Curve
35

olästa

/ 35

majkia

,

november

2011
Writing Buddies, Anyone?
26

olästa

/ 26

BekkaJo

,

november

2011
Alexander in India: An Operatic Romance NaNo 2011
63

olästa

/ 63

richardderus

,

november

2011
2011 Week 2 - How you doing
29

olästa

/ 29

NineTiger

,

november

2011
2011 Week 1 - Ready GO!
68

olästa

/ 68

majkia

,

november

2011
NaNo for the New and the Insane
23

olästa

/ 23

C_S_McClellan

,

november

2011
2011: 5 months out - Anyone even thinking about it yet?
25

olästa

/ 25

Storeetllr

,

oktober

2011
Coffee with Thunderbolts
5

olästa

/ 5

NineTiger

,

maj

2011
Publishing?
4

olästa

/ 4

NineTiger

,

april

2011
ScriptFrenzy anyone?
1

oläst

/ 1

mamzel

,

mars

2011
Week 4 - Nearly there now!
24

olästa

/ 24

zette

,

december

2010
Week 3: Having fun yet?
21

olästa

/ 21

mamzel

,

november

2010
Where was I 21 days ago?
1

oläst

/ 1

DragonFreak

,

november

2010
Week Two: Dig In!
19

olästa

/ 19

LadyClare

,

november

2010
Week One: And We're Off!
52

olästa

/ 52

Storeetllr

,

november

2010
POV: Tried and true or something new?
12

olästa

/ 12

Storeetllr

,

november

2010
1667 words a day or 12K words a week?
11

olästa

/ 11

upstairsgirl

,

november

2010
How are you preparing for NaNoWriMo 2010?
25

olästa

/ 25

Storeetllr

,

oktober

2010
Anyone here?
82

olästa

/ 82

brianjungwi

,

oktober

2010
Reading for NaNo inspiration or research
4

olästa

/ 4

elbakerone

,

oktober

2010
Amazon Breakthrough Novel Award
9

olästa

/ 9

elbakerone

,

oktober

2010
richardderus: THE HARPS OF VENUS 2010 NaNovel
16

olästa

/ 16

richardderus

,

oktober

2010
Nano 2009 - The Winner's Lounge
6

olästa

/ 6

elbakerone

,

november

2009
NaNo 2009 - Week 4 (The final stretch)
5

olästa

/ 5

lorin77

,

november

2009
richardderus NaNos with Death in Blue and White
66

olästa

/ 66

cameling

,

november

2009
Avoidance tactics
3

olästa

/ 3

gilroy

,

november

2009
This is a feature balloon