Books in 2025: The Future of the Book World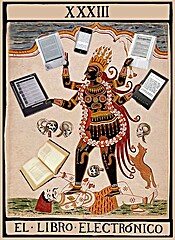 Den här gruppen är officiellt vilande. Sånt händer.
Läs här om hur du gör för att återuppliva gruppen eller skapa en ny om samma ämne.
Check out the blog post announcing the group.

Some questions:
How will ebooks change reading? Has it changed your reading?
How fast will ebooks rise, and how high will they go? Is the paper book dead?
Where is social reading going? What's core and what's fad?
Will sites like LibraryThing continue to exist, or will ereaders leverage their advantages to make book discussion a platform-dependent activity?
Will libraries contract or prosper in an ebook world? What can they do to make sure things turn out right?
How will ebooks change the world for publishers?
Will writers see increased opportunities--or be decimated by piracy? How will ebooks change literature?
Are physical bookstores doomed?
What about the rest of the book world--small and informal libraries, agents, rare books, small presses, book reviewers, etc.?
Amazon, B&N, Apple... How many will win, and how will they evolve?
Group image by Javier Candeira, released under CC-Attribution-ShareAlike 2.0 Generic (see
on Flickr
).
Diskussion

Diskussion

Meddelanden

Senaste inlägget

More digitized books
2

olästa

/ 2

elenchus

,

september

2019
ALA Petition against eBook Embargo for Libraries
1

oläst

/ 1

elenchus

,

september

2019
U.S. Public Library as Social Infrastructure
1

oläst

/ 1

elenchus

,

februari

2019
GoodReads versus Amazon's Seattle Store
1

oläst

/ 1

elenchus

,

december

2015
Article: New Yorker long-form on Amazon and Publishing
1

oläst

/ 1

elenchus

,

februari

2014
What will be lost with the closing of bookstores, and can LT replace it?
37

olästa

/ 37

anglemark

,

januari

2014
Crowd-sourced editing?
2

olästa

/ 2

anglemark

,

januari

2014
Stross on how readers will discover books in future
4

olästa

/ 4

timspalding

,

oktober

2013
oyster (book streaming service)
10

olästa

/ 10

grintoul

,

september

2013
Can Barnes and Noble be saved?
23

olästa

/ 23

grintoul

,

september

2013
Amazon's Kindle Matchbook
3

olästa

/ 3

bestem

,

september

2013
Segments Pressured By Ebooks
15

olästa

/ 15

brightcopy

,

augusti

2013
ARTICLE: e-book design changes the way we read
2

olästa

/ 2

Senserial

,

juli

2013
Amazon to Launch Library Lending for Kindle Books
63

olästa

/ 63

MDGentleReader

,

juni

2013
Digital Public Library of America
5

olästa

/ 5

lkernagh

,

april

2013
What is the value of a book?
2

olästa

/ 2

skoobdo

,

mars

2013
BookTV: Panel on Publishing
1

oläst

/ 1

barney67

,

januari

2013
University of Missouri Press closes
4

olästa

/ 4

Proclus

,

augusti

2012
Open Stacks Mk II
1

oläst

/ 1

elenchus

,

juli

2012
The Viral Future
5

olästa

/ 5

lkernagh

,

juni

2012
Amazon's e-book rental thrust
69

olästa

/ 69

2wonderY

,

maj

2012
Maruice Sendak's opinion of e-books
2

olästa

/ 2

JBD1

,

maj

2012
Harry Potter and the DRM Free Books (Now with DRM!)
1

oläst

/ 1

brightcopy

,

mars

2012
Apple is your co-author
12

olästa

/ 12

brightcopy

,

januari

2012
FREE Kindle eBook
12

olästa

/ 12

JBD1

,

januari

2012
And So It Begins- Free Devices
6

olästa

/ 6

majkia

,

januari

2012
Charlie's Diary Blog: Cutting their own throats
3

olästa

/ 3

staffordcastle

,

december

2011
Libraries finally balk at e-book-- oh wait, it's the publisher. Never mind.
7

olästa

/ 7

fdholt

,

november

2011
Kindle- Time Machine
1

oläst

/ 1

VisibleGhost

,

november

2011
Publisher consolidations?
6

olästa

/ 6

VisibleGhost

,

november

2011
The emperor's new books
3

olästa

/ 3

brightcopy

,

november

2011
6 Reasons We're In Another 'Book-Burning' Period in History
2

olästa

/ 2

elenchus

,

oktober

2011
Amazon, B&N, Neil Gaiman snit
5

olästa

/ 5

southernbooklady

,

oktober

2011
Enhanced eBooks & BookApps (in Science) - livestream 9/20
1

oläst

/ 1

xkyzero

,

september

2011
ebook gift-giving
3

olästa

/ 3

brightcopy

,

augusti

2011
A Folio Society for ebooks?
21

olästa

/ 21

vy0123

,

augusti

2011
Should bookstores charge for events?
3

olästa

/ 3

jjmcgaffey

,

juni

2011
Google responds to Apple's 30% subscriptions with Google One Pass
5

olästa

/ 5

timspalding

,

juni

2011
The Future of the Book World...
12

olästa

/ 12

anglemark

,

juni

2011
Amazon jumps into publishing "with both feet"
2

olästa

/ 2

_Zoe_

,

maj

2011
Confessions of a book leech
49

olästa

/ 49

bnielsen

,

april

2011
Tomes' time might be up at Newport Beach library
9

olästa

/ 9

brightcopy

,

april

2011
Is the group image appropriate? Does symbolism matter?
26

olästa

/ 26

tcgardner

,

mars

2011
Scalzi's Bingo
1

oläst

/ 1

Musereader

,

mars

2011
Library-Friendly Designation
6

olästa

/ 6

2wonderY

,

mars

2011
Anybody else sick of memoirs?
2

olästa

/ 2

krolik

,

mars

2011
The downward spiral of ownership and value
87

olästa

/ 87

SimonW11

,

mars

2011
Runner-up for group image?
2

olästa

/ 2

staffordcastle

,

mars

2011
Anomaly or case study of the future?
2

olästa

/ 2

_Zoe_

,

mars

2011
not looking good for libraries
7

olästa

/ 7

SimonW11

,

februari

2011
O'Reilly Radar Blog on Future Book Tools
3

olästa

/ 3

TineOliver

,

februari

2011
What happens to former owners?
2

olästa

/ 2

SqueakyChu

,

februari

2011
Apple rejects Sony Reader (more to the story)
29

olästa

/ 29

felius

,

februari

2011
eBooks and Piracy: A thought experiment
143

olästa

/ 143

brightcopy

,

februari

2011
anyone following the Ebook royalts article on the authors guild site?
3

olästa

/ 3

SimonW11

,

februari

2011
Social Reading
1

oläst

/ 1

jenconnected

,

februari

2011
ebook sales overtaking paperback
1

oläst

/ 1

SimonW11

,

januari

2011
Software which adds value to books
8

olästa

/ 8

2wonderY

,

januari

2011
Will LibraryThing continue to exist?
22

olästa

/ 22

2wonderY

,

januari

2011
Ebook buying Habits
3

olästa

/ 3

majkia

,

december

2010
Does it matter if physical bookstores disappear?
137

olästa

/ 137

DevourerOfBooks

,

december

2010
Reply to ChrisKubica on ebooks and entrepreneurialism
25

olästa

/ 25

southernbooklady

,

december

2010
ereaders: is there such a thing as too much data?
6

olästa

/ 6

anglemark

,

december

2010
Problems with Digital Archiving
1

oläst

/ 1

barney67

,

december

2010
What's so great about indies?
12

olästa

/ 12

SusieBookworm

,

december

2010
"Author Slams eBook Piracy, Son Outs Her As a Music Pirate"
4

olästa

/ 4

majkia

,

december

2010
Google eBookstore, also Goodreads Integration
7

olästa

/ 7

elbakerone

,

december

2010
Welcome to this group / Books in 2025?
113

olästa

/ 113

jburlinson

,

december

2010
Books in 2125
11

olästa

/ 11

thorold

,

november

2010
This is a feature balloon