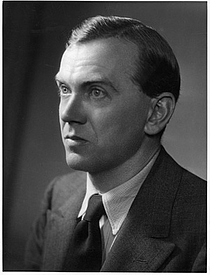 Samlingar

Moln

Medium

Gått med

Jul 17, 2009
Riktigt namn

Graham Greene

Om mitt bibliotek

My library of between 2500 and 3000 books is currently held by the John J. Burns Library of Rare Books and Special Collections at Boston College, who purchased it for approximately £1m four years after my death.

While alive, I was noted for manner in which I used my library; letters and photos were often filed inside the books, and I frequently used the flyleaves and margins as impromptu notebooks, jotting down anything from diary entries and commentary on the work to notes for use in my own books.

Om mig

I was born in England in 1904, and am considered by some to be one of the foremost 20th century novelists from that nation. I divided my works into two categories: "novels", which frequently dealt with philosophical and moral concerns, and "entertainments", which often dealt with the world of international politics and intrigue. I died in Switzerland in 1991.
Denna webbplats använder kakor för att fungera optimalt, analysera användarbeteende och för att visa reklam (om du inte är inloggad). Genom att använda LibraryThing intygar du att du har läst och förstått våra Regler och integritetspolicy. All användning av denna webbplats lyder under dessa regler.