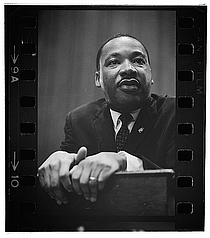 Böcker

613

Samlingar

Taggar

Moln

Medium

Gått med

Feb 2, 2016
Riktigt namn

Dr. Martin Luther King, Jr.

Om mitt bibliotek

The books included here are those in the Morehouse College Martin Luther King Jr. Collection, held at the Archives Research Center of the Robert W. Woodruff Library. See the

Book Listing

for information about accessing the collection. The books reportedly contain Dr. King's handwritten annotations, though these are not noted in the listing.

Om mig

Dr. Martin Luther King, Jr. (15 January 1929–4 April 1968), Baptist minister and leader in the American civil rights movement.
Denna webbplats använder kakor för att fungera optimalt, analysera användarbeteende och för att visa reklam (om du inte är inloggad). Genom att använda LibraryThing intygar du att du har läst och förstått våra Regler och integritetspolicy. All användning av denna webbplats lyder under dessa regler.