jenknox's BFB list: Wuxia!
Bara medlemmar i LibraryThing kan skriva.
Hey all!
I'm kind of combining this with the my ROOT group challenge, as I'm finally going to work my way through all the wuxia epics I can this year. Since I'm going to get some new books for this I won't be able to include all of them over there, so this group is perfect :) I won't be able to get exact page numbers as I'll be reading on a kindle, but most of the novels are over 1,000 pages, so no worries on meeting the requirements :)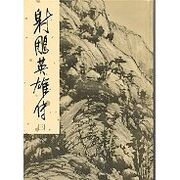 Currently reading:
Finished
1.
The Sword and the Exquisiteness
by Gu Long
- Not my favorite but still fun! Starts out strong but gets, how can I say it, a bit too bizarre towards the middle.
2.
Demi-Gods and Semi-Devils
by Jin Yong
-Awesome read!