Stonewall Book Awards
Bara medlemmar i LibraryThing kan skriva.
The
Stonewall Book Award
is a set of three literary awards that annually recognize "exceptional merit relating to the gay/lesbian/bisexual/transgender experience" in English-language books published in the U.S. They are sponsored by the Rainbow Round Table of the American Library Association (ALA) and have been part of the American Library Association awards program, now termed ALA Book, Print & Media Awards, since 1986 as the single Gay Book Award.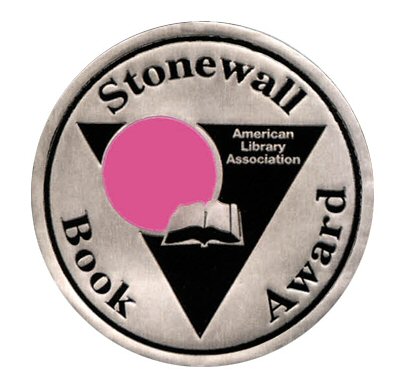 The Stonewall Book Award was first awarded in 1971 for
Patience and Sarah
.
Only one award was given, annually, through 1989.
Finalists have been designated from 1990 and termed "Honor Books" from 2001. Currently, a panel of librarians selects five finalists in each award category and subsequently selects one winner. The awards are named for Barbara Gittings, Israel Fishman, and (jointly) Mike Morgan and Larry Romans.
Between 1990 and 2009, Honor Books and a Winner have been chosen for Non-fiction and Literature. In 2010, a category was added for Children's and Young Adult.
The Stonewall Book Award for Literature is known as the
Barbara Gittings Literature Award
.
This year it was awarded to a lesbian novel,
Cantoras
by Caronlina De Robertis.
From the highly acclaimed, award-winning author of The Gods of Tango, a revolutionary new novel about five wildly different women who, in the midst of the Uruguayan dictatorship, find one another as lovers, friends, and ultimately, family.
In 1977 Uruguay, a military government crushed political dissent with ruthless force. In this environment, where the everyday rights of people are under attack, homosexuality is a dangerous transgression to be punished. And yet Romina, Flaca, Anita "La Venus," Paz, and Malena--five cantoras, women who "sing"--somehow, miraculously, find one another. Together, they discover an isolated, nearly uninhabited cape, Cabo Polonio, which they claim as their secret sanctuary. Over the next thirty-five years, their lives move back and forth between Cabo Polonio and Montevideo, the city they call home, as they return, sometimes together, sometimes in pairs, with lovers in tow, or alone. And throughout, again and again, the women will be tested--by their families, lovers, society, and one another--as they fight to live authentic lives.
A genre-defining novel and De Robertis's masterpiece, Cantoras is a breathtaking portrait of queer love, community, forgotten history, and the strength of the human spirit. At once timeless and groundbreaking, Cantoras is a tale about the fire in all our souls and those who make it burn.
-----
Additionally, four novels were chosen as a
Stonewall Honor Book
, and one of those is a lesbian novel:
Patsy
by Nicole Dennis-Benn *
Heralded for writing "deeply memorable . . . women" (Jennifer Senior, New York Times), Nicole Dennis-Benn introduces readers to an unforgettable heroine for our times: the eponymous Patsy, who leaves her young daughter behind in Jamaica to follow Cicely, her oldest friend, to New York. Beating with the pulse of a long-withheld confession and peppered with lilting patois, Patsy gives voice to a woman who looks to America for the opportunity to love whomever she chooses, bravely putting herself first. But to survive as an undocumented immigrant, Patsy is forced to work as a nanny, while back in Jamaica her daughter, Tru, ironically struggles to understand why she was left behind. Greeted with international critical acclaim from readers who, at last, saw themselves represented in Patsy, this astonishing novel "fills a literary void with compassion, complexity and tenderness" (Joshunda Sanders, Time), offering up a vital portrait of the chasms between selfhood and motherhood, the American dream and reality.
*This book also won the Lambda Literary Award for Lesbian Fiction.