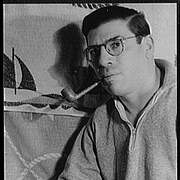 Allmänna fakta
Namn enligt folkbokföringen

Födelsedag

Avled

Kön

Nationalitet

Födelseort

Dödsort

Bostadsorter

Utbildning

Yrken

sports reporter
longshoreman
foreign correspondent
novelist
short story writer
founder of Golden Gloves amateur boxing competition (

visa alla

7)
children's book author

Relationer

Organisationer

Priser och utmärkelser

Agent

Kort biografi

Paul Gallico was born in New York City, the son of immigrants from Italy and Austria. His father was a concert pianist and composer and his mother had studied to be a singer. Paul attended public school and worked his way through Columbia University with jobs as a tutor and longshoreman. He got a job with the New York Daily News, originally as the movie critic, but more successfully in the sports department. His first big break came when he was sent to cover the training camp of Jack Dempsey, and decided to ask the boxer if he could spar with him. Gallico was knocked out within two minutes, but he had a great story, and from then on his sportswriting career took off. He became editor of the Sport Section of the Daily News in 1923, and had a daily sports column. He also created and organized the Golden Gloves competition for amateur boxers. He became one of the best-known sports writers in the USA and a minor celebrity. But he was always drawn to writing fiction. In 1937, he went to live in Europe to devote himself to this new career. He produced short stories and articles that were published in magazines such as The New Yorker, Vanity Fair, and the Saturday Evening Post. In 1941, he published the novella The Snow Goose, which made him well-known. Apart from a short spell as a war correspondent between 1943 and 1946, Gallico was a full-time freelance writer for the rest of his life. He continued to live outside the USA, mostly in England, Monaco, and the Antibes. He was a first-class fencer, and a keen deep-sea fisherman. He was married four times, and had several children. Among his more than 40 books for adults and children were Manxmouse (1968), cited by J.K. Rowling as one of her favorite books; Mrs. 'Arris Goes to Paris (1958) and its four sequels; and The Poseidon Adventure (1969), the basis for the hugely successful 1972 film.
Statistik
Verk

99

Även av

53

Medlemmar

8,266

Popularitet

#2,925

Betyg

3.9
Recensioner

199

ISBN

385

Språk

16

Favoritmärkt

15

Proberstenar

315